While RAM won't be the most significant expense on your gaming PC, it will keep everything running smoothly. Gamers regularly upgrade their RAM, so we've put together a rundown of everything you need to know, from the basics to how to overclock RAM.
Our top-rated RAM: Corsair Vengeance RGB PRO 3600 DDR4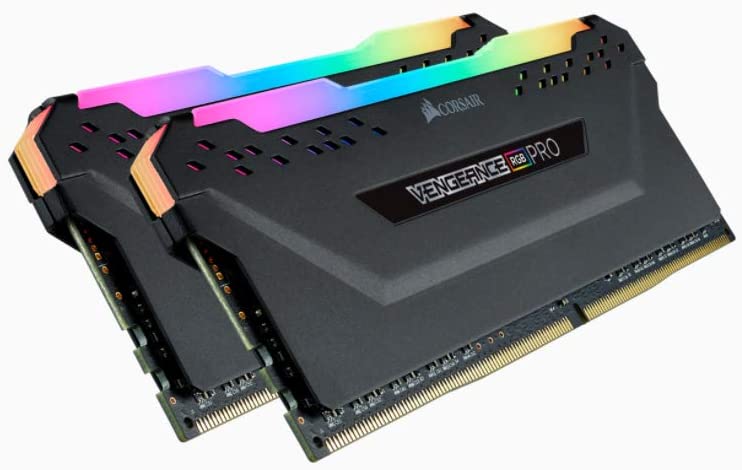 Brand: Corsair
Form Factor: DDR4
Computer Memory Size: 32 GB
Memory Speed: 3200 MHz
Data Rate: DDR4-3200 (XMP)
Timings: 16-18-18-36 (2T)
Voltage: 1.35V
Price: € 128 / $ 145
The Corsair Vengeance RGB PRO 3600 DDR4 has everything we're looking for: an amazing overall performance, extensive XMP profiles, RGB lights for the aesthetics, and decent pricing.
The only disadvantage which we could find is the fact that it won't reach the DDR4-4000 settings.
For more recommendations and reviews, keep reading below.
What does RAM memory do?
Connected to the CPU, the RAM stores temporary data that the CPU will quickly need to access to execute tasks and run programs. These programs (or games) read and write data to the RAM because it's faster than accessing data stored on a hard disk.
This memory is "Volatile memory," meaning it only stores short-term data required to run those programs. After a computer reboot, all the data in the memory is wiped and reset.
What is the difference between RAM and ROM?
As explained, the Random Access Memory (RAM) is the memory used to store the data the CPU is processing. In contrast, the Read-Only Memory (ROM) holds essential data, prerecorded and stored system information (such as the Bios). The goal of the ROM memory is to make sure the computer can be booted-up.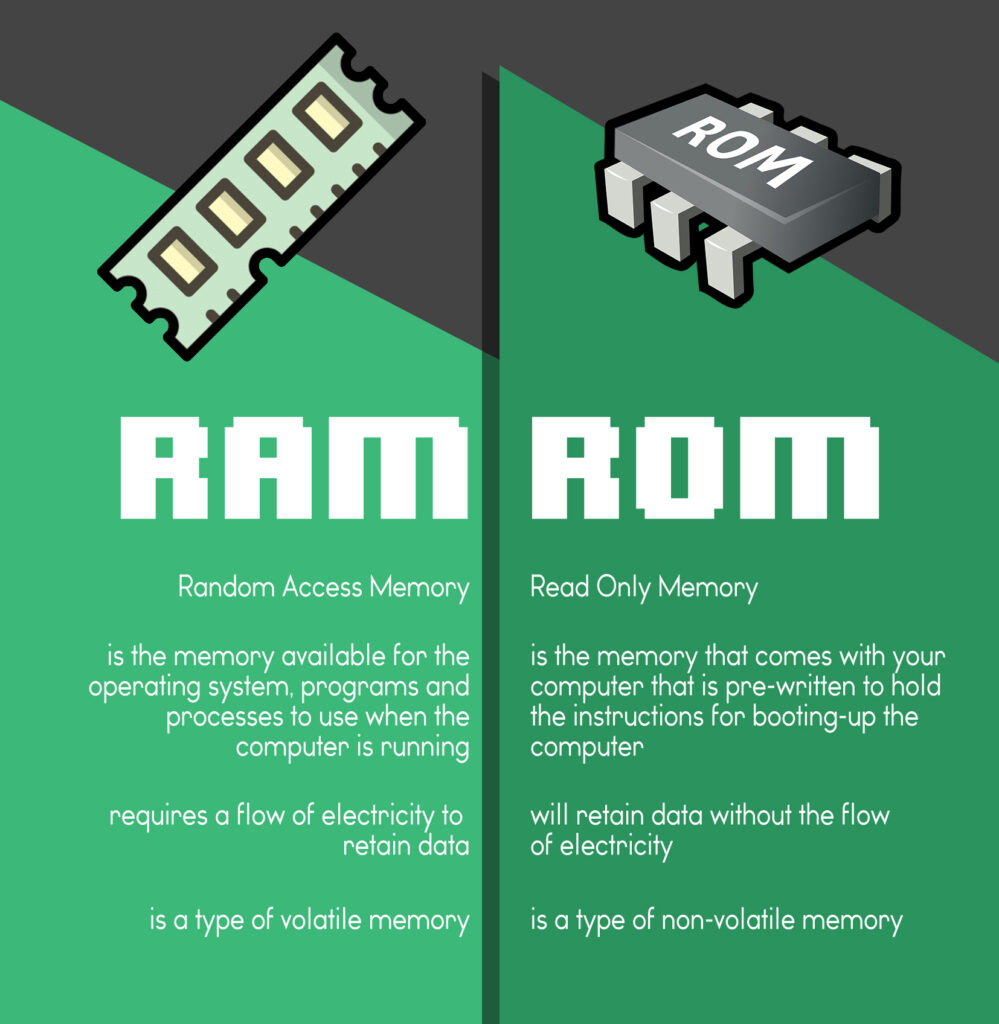 Why is computer memory (RAM) important for gaming?
The hard disk is too slow to assist the CPU with its calculation, so that's where the Random Access Memory jumps in. Once your game is launched, your memory gets a key role: transfer data from and to the CPU as fast as possible. The more data it contains and the faster its clock rate, the smoother the gaming experience will be.
How much RAM memory do I need for live streaming?
Nowadays, most gamers will need at least 16GB to run most first-person shooting gaming titles. We recommend looking at 32GB, so you'll have the freedom to run more applications in the background (such as Discord, Twitch, OBS, etc.).
When we keep the future in mind, we'll realize that 32 GB of RAM is currently spacious. However: this might change with the new AAA games, which will be released in 2023. Content creators who regularly edit videos or photoshop images will also want to make this extra investment.
For now, having 64GB of RAM would still be considered overkill. Technically, having "too much RAM" wouldn't negatively impact your system. However: you wouldn't be able to use it to the fullest potential unless you plan to execute some really intensive tasks.
What to look for when buying RAM for gaming and live streaming?
First of all, you'll want to make sure that your memory sticks fit into your motherboard.
Secondly, you'll want to look at the capacity and speed of the memory, as it will play a significant role in your gaming experience. So if you are about to buy RAM, make sure you always use the same RAM sticks, the same brand, and the same speed. This is because your computer will adapt to the speed of the slowest sticks anyway.
Motherboard
Before considering RAM capacity and speed, we need to make sure that our sticks actually fit into our motherboard and work together with our processor. If we buy the wrong type of form factor, our Random Access Memory wouldn't fit into the motherboard in the first place.
While we provide more information below on what to look for when buying RAM, you can also read our Motherboard buyer's guide to learn more about what to look at when buying a motherboard.
SDRAM or DRAM – Different types of RAM
A few different form factors of RAM have been used throughout the years. Both dynamic (DRAM) and Static (SRAM) are widely used, whereas DRAM is the favorite one for most gamers.
The DRAM memory modules are cheaper than SRAM and easier to replace or upgrade. The downside is that their operating speed is much slower than the SRAM. This is why the SRAM is mainly used as cache memory.
DIMM or SO-DIMM
Another difference that impacts the memory's form-factor is whether you need the Random Access Memory for a desktop computer or rather a laptop.
The DIMM (Dual in-line memory module) sticks are larger RAM modules designed for desktop motherboards. In contrast, SO-DIMM (small outline dual in-line memory module) is the smaller memory stick made explicitly for laptops.
RAM speed
Our CPU needs decent RAM sticks to speed up the computer, so our games perform better. Therefore, it is logical that the speed of our RAM will play a decisive role in finding the perfect RAM for our gaming setup.
The most important thing to know is that the speed of the RAM is expressed in megahertz (MHz) and that a higher MHz value indicates that the RAM is faster and therefore has a better performance.
Capacity
Having fast memory is excellent, but of course, the capacity (expressed in GB) also plays a role when looking for the perfect memory stick; The more information that can be written to the RAM, the more applications can be run simultaneously (such as your game and discord).
For that reason, we had already indicated that we need at least 16GB, and – if possible – even 32GB.
DDR – Double Data Rate
DDR is the "Double Data Rate"-technology that has been around since 2014 and means that the RAM operates twice per clock cycle.
Throughout the years, this technology has improved, which led to the DDR4 version that was released in 2014. The DDR4 is the current standard for RAM sticks, while DDR5 has been available since 2020.
The benefits of these higher versions of DDR RAM are that it generates a higher speed, has increased transfer rates, and needs less voltage. The drawback is that every DDR version has another RAM stick layout, meaning that you'll have to make sure your motherboard supports the connection.
How do you upgrade your RAM memory?
If your computer feels slower or can't process the AAA games anymore, you might need to upgrade your RAM.
Upgrading memory is actually pretty simple: you'll have to open up your computer, take out the old RAM sticks by pressing on the tabs that are holding them, and push the new RAM sticks in.

The most crucial part of upgrading the memory is being careful (since you're about to touch your motherboard) and making sure you're not statically charged.
Can you overclock your RAM memory?
The RAM sends over information toward the CPU to process this information. This means that a bottleneck situation can be created if the CPU is faster than the RAM or vice versa.
As explained in our CPU buyer's guide: we can overclock our CPU to run faster (and thus potentially improve the performance) than intended, but the same goes for RAM.
When we talk about RAM performance, we'll mostly talk about its frequency and latency, which are often referred to as the "timings" of the memory; these timings correspond with the time it needs between transferring operations. The less time it needs between operations, the better the RAM because it has less latency.
When we're overclocking our RAM, we're actually trying to reduce the latency between the operations, causing the frame times to improve. Additionally, it will reduce the CPU-intensive tasks where much data is needed. This makes RAM overclocking much more complex than CPU or GPU overclocking, but luckily RAM doesn't produce any extra heat.
We won't run through the process of overclocking our RAM, but in essence, we would change the frequency of our timings in our BIOS to speed up our memory.
Intel motherboards use XMP profiles
As we just briefly mentioned: the RAM timings are set up in our BIOS. However, most recent Intel motherboards have a factory overclocking system called XMP (Extreme Memory Profile).
These XMP profiles are basically settings for the BIOS that instruct what frequency, timings, and voltage the RAM needs. This makes it a giant shortcut for overclocking since you won't have to change each setting individually.
Top 3 Best RAM for Streaming on Twitch
---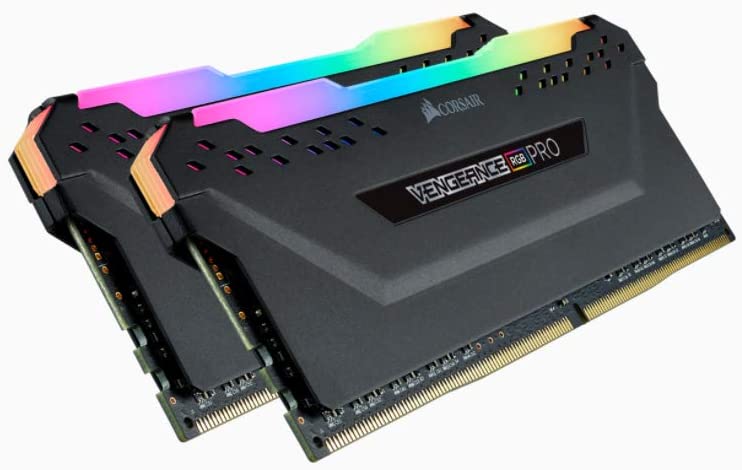 Corsair Vengeance RGB PRO 3600 DDR4
Brand: Corsair
Form Factor: DDR4
Computer Memory Size: 32 GB
Memory Speed: 3200 MHz
Data Rate: DDR4-3200 (XMP)
Timings: 16-18-18-36 (2T)
Voltage: 1.35V
Price: € 128 / $ 145
This Corsair Vengeance RGB PRO 3600 DDR4 is known to have an outstanding overall performance, with extensive XMP profiles that unlock its full potential.
The only disadvantage we could find is that it won't reach the DDR4-4000 settings.
For the gamers who have a transparent case and like fancy lights: the Corsair Vengeance RGB PRO has RGB lights, which creates impressive aesthetics when turned on.
Considering its price, the Corsair Vengeance RGB PRO 3600 DDR4 is our absolute favorite and is mounted on our own gaming pc.
Pros
+ Price
+ XMP Profiles (overclockable)
+ Nice to have: RGB lights
Cons
– Doesn't reach 4400 MHz
---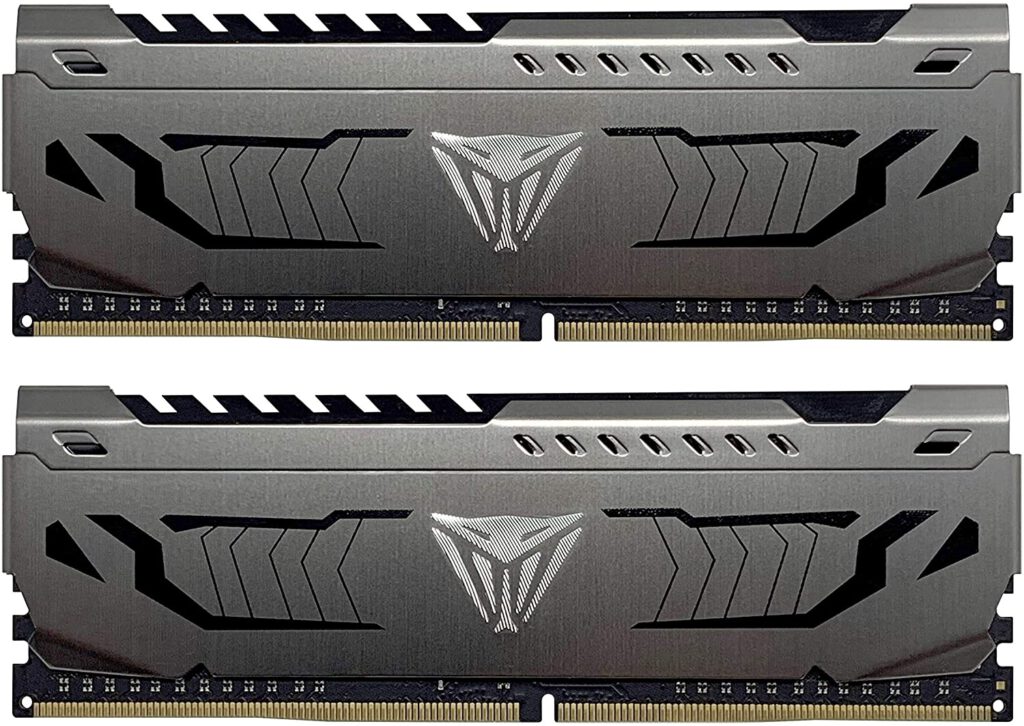 Patriot Viper Steel DDR4-4400
Brand: Patriot Memory
Form Factor: DDR4
Computer Memory Size: 16 GB
Memory Speed: 4400 MHz
Data Rate: DDR4-4400 (XMP)
Timings: 19-19-19-39 (2T)
Voltage: 1.45V
Price: € 105 / $ 120
The Patriot Viper Steel DDR4-4400 is a memory stick that fits both into the AMD Ryzen and Intel motherboards, making it far more compatible than most RAM sticks.
It runs at an incredible 4400 MHz top speed, provided that your motherboard can handle these kinds of speeds.
While the Patriot Viper RAM is explicitly made for gamers, it doesn't include any RGB settings, which some people might see as an advantage.
Pros
+ Compatible with AMD (Ryzen) and Intel
+ Reaches 4400 MHz
+ Superb timings
+ Pricing
Cons
– No overclocking possibilities
– Highest XMP profiles require selected motherboards
---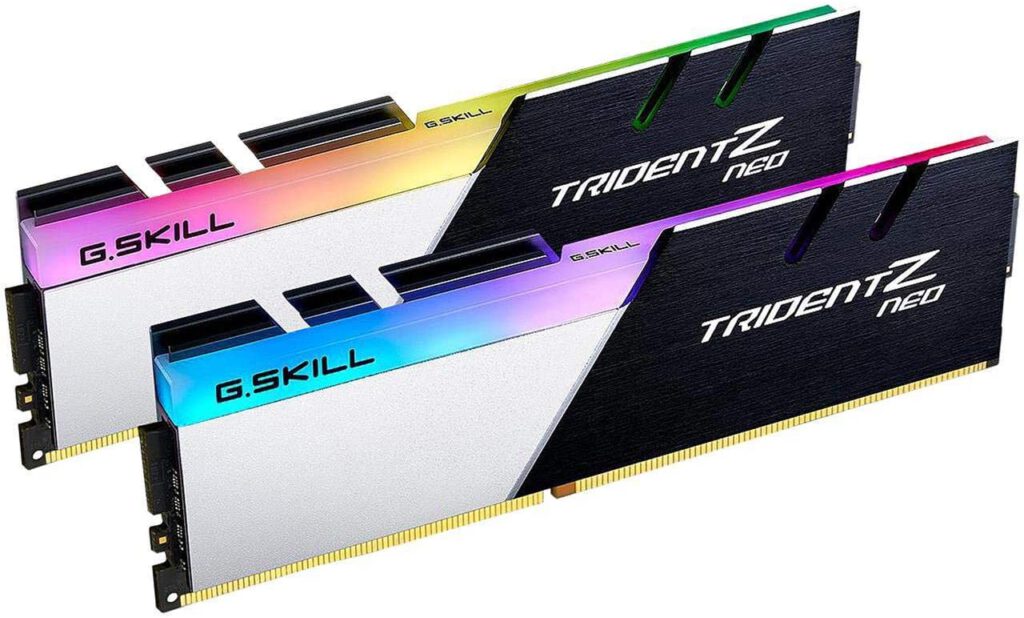 G.Skill Trident Z Neo DDR4-3600
Brand: G.skill
Form Factor: DDR4
Computer Memory Size: 32 GB
Memory Speed: 3600 MHz
Data Rate: DDR4-3600 (XMP)
Timings: 16-16-16-36 (2T)
Voltage: 1.35V
Price: € 160 / $ 180
The G.Skill Trident Z Neo DDR4-3600 is by far the most expensive RAM we've tested, however, it's an absolute beast if you run it on an AMD Ryzen gaming PC.
The Trident Z Neo is actually known because they use Samsung components, which allows you to push the latency just a bit further beyond the advertised 16-16-16-36 timings.
Similar to the Corsair Vengeance, it contains fantastic RGB lighting.
Pros
+ XMP Profiles (overclockable)
+ RGB Kit
+ Optimized for AMD Ryzen motherboards
Cons
– Expensive
– Average speeds and timings
---
Other sites also recommend …
As we can't test every RAM stick released in the market so, we thought we'd include some of the memory that some other reputable sources have mentioned. Keep in mind that most of these other sites included the same recommendations that we have given above.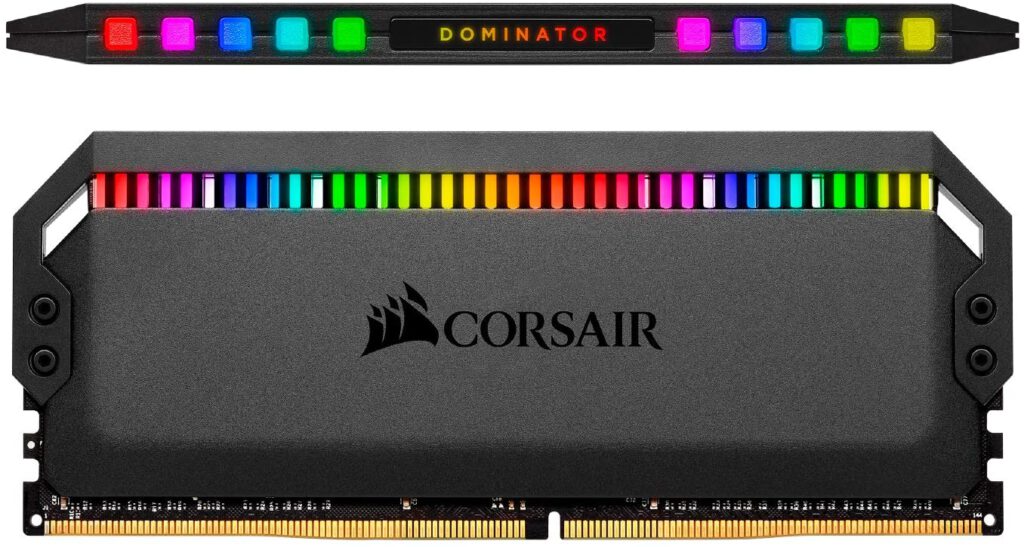 Corsair Dominator Platinum RGB 32GB DDR4-3200MHz
Brand: Corsair
Form Factor: DDR4
Computer Memory Size: 16 GB
Memory Speed: 3200 MHz
Timing: 16-18-18-36
Voltage: 1.35 V
Price: € 192 / $ 218
---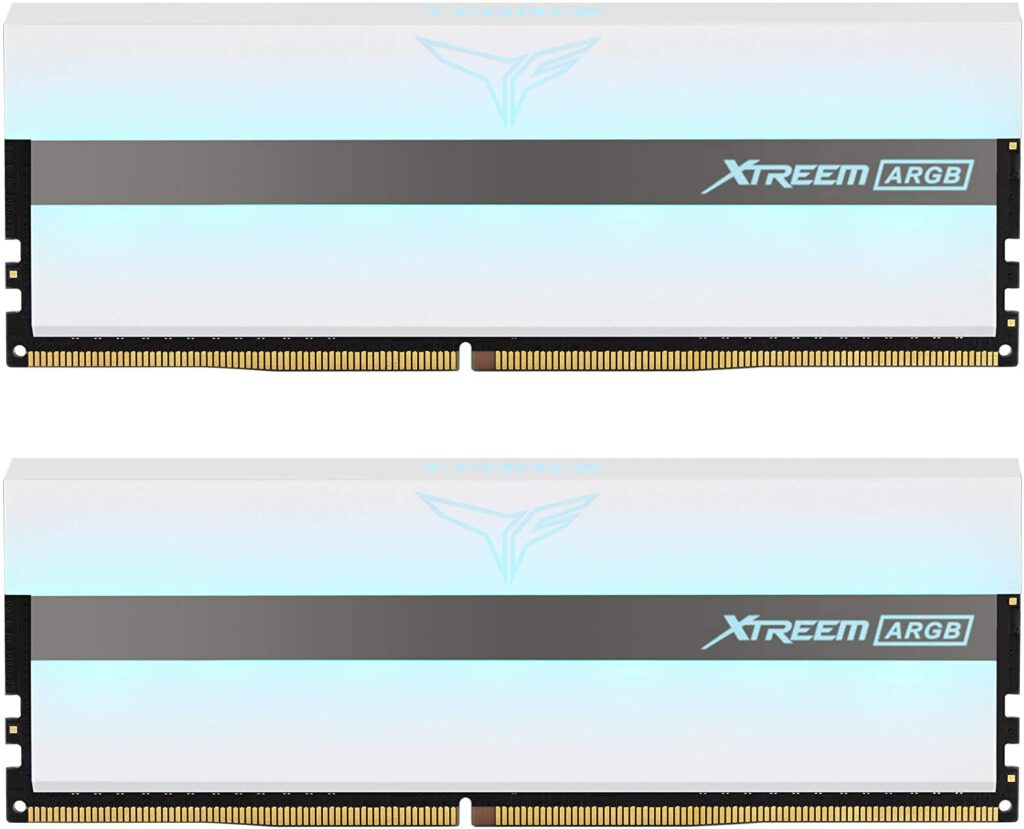 TeamGroup T-Force Xtreem ARGB DDR4-3600
Brand: Team Group
Form Factor: DDR4
Computer Memory Size: 32 GB
Memory Speed: 3600 MHz
Data Rate: DDR4-3600 (XMP)
Timings: 14-15-15-35 (2T)
Voltage: 1.45V
Price: € 145 / $ 165
We use affiliate links to keep our website running. This does not affect our product selections or ratings.