When purchasing a new computer monitor, you have to consider different specifications from screen resolution to frame rates, which is why we have listed the best 10 monitors for streaming.
Our top-rated Monitor: LG 27GN950-B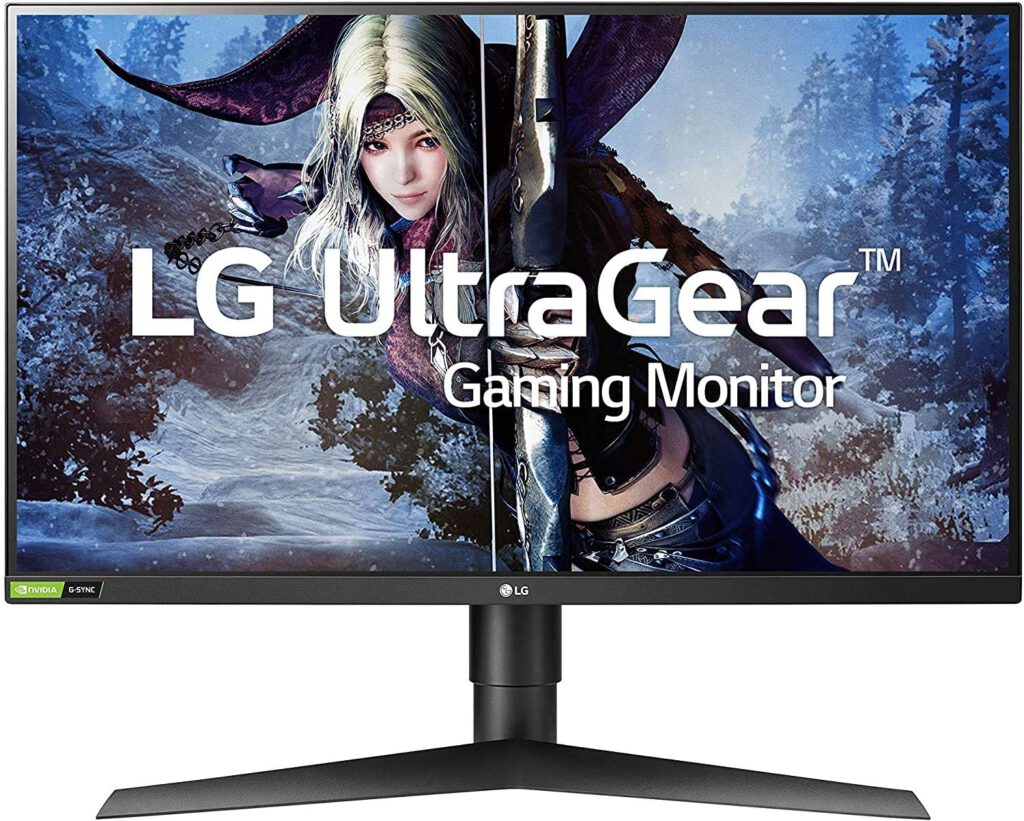 Next to a great 4K screen resolution, a 144Hz refresh rate, and an incredible response time, the LG 27GN950-B has a sharp price, making it perfect for a dual monitor setup.
Price: € 410 / $ 500
For more recommendations and reviews, keep reading below.
What is a good streaming monitor?
When you're a streamer looking for a new monitor, you won't have to take many specs into account since only the screen resolution you use will impact your audience. All the other specifics will only impact your own experiences.
What to look for when buying a streaming monitor?
When you are buying a new monitor to live streaming your games, you'll only have to look at the screen resolution you'll be using. All other specs aren't that important for streaming. However, you might want to take them into account when you're gaming first prison shooters.
What is the monitor resolution?
The Resolution of a screen is represented by an aspect ratio and compares the screen's length to the height. The most common format is 16:9, but some monitors like to stretch things out with ratios like 21:9 or 16:10.
Why is the Aspect Ratio important for streaming?
We have to take the monitor resolution into account because most live streaming platforms (such as Twitch) only support footage in a 16:9 format.
Gamers who are using an ultra-wide monitor will have a bigger and more immersive impression of the game. Still, streaming in such a 21:9 or 32:9 format will cause an unfortunate result: the streaming platform will add black bars to compensate for the resolution difference. This obviously causes gameplay to be unclear to viewers.
As a result, you'll want a 4k display that will be downscaled to 1080p during your Livestream.
What to look for when buying a monitor for gamers?
We realize most live streamers are actually gamers playing first-person shooters (such as Counter-Strike or Rainbow Six), making the Monitor Refresh rate and Response time equally important. Streamers that prefer other types of games (such as League of Legends and Minecraft) should attach a little less value to these specs.
The Monitor Refresh Rate is important for FPS games
The Refresh Rate of a monitor is expressed hertz (Hz) and shows how often the monitor updates the image displayed on your screen. All modern monitors support 60Hz, but some newer and more pricey monitors offer a much higher refresh rate.
This is important in high-paced first-person-shooters where the movements will be smoother, and monitor lag will be reduced. For these first-person shooters, you'll already have a big advantage with a monitor that can reach 120Hz to 144Hz, while the fastest screens on the market now support 240Hz.
Make sure to double-check your graphics card to see if it can process your new monitor's maximum refresh rate.
What's the difference between Frame rate and refresh rate?
As explained: The refresh rate of a monitor is the rate at which a monitor can refresh its display, whereas the Frame rate expresses the number of frames per second produced by your graphics card and your processor.
Why is the response time of the monitor important for gamers?
The Response time of a monitor is when it takes to shift from one color to another, measured in milliseconds. The lower this low response time of your monitor is, the better it is for fast-paced games such as fps shooters.
In games with simpler gameplay, such as racing, open world, or card games, the response time isn't that decisive.
Do you need a dual monitor setup for streaming?
Do you absolutely need a dual monitor setup when you start streaming? No, a single monitor should be enough for entry-level streamers. To postpone the purchase of a second screen, you could alternatively use your smartphone to monitor your stream chat.
However, switching from your game to your stream chat won't be possible when using a phone, which is why most experienced streamers are using multiple monitors. This allows them to configure one monitor as their gaming screen, while the other one can be configured for managing their stream's chat room and monitoring your streaming software.
Another recurring trend we're noticing is that most dual monitor setups are using curved gaming monitors. The advantage of having two curved monitors is that they seamlessly connect, without a harsh angle between the two monitors.
What Are the Benefits of Dual Monitor Setup for Gaming?
As a broadcaster, you'll be forced to multitask, which is why you'll want to keep track of many different things at a glance. Having two or more monitors will help you process the information much faster.
Additionally, a dual monitor setup will allow you to have a more immersive gameplay when playing (racing) games when you're not streaming.
Do you need the same two monitors for streaming?
Not necessarily. The most important aspect of having a dual monitor setup is the functionality, rather than the aesthetic side – most bigger streamers even have a multi-monitor setup, including three, four, five, or more monitors.
What's the best monitor for streaming?
---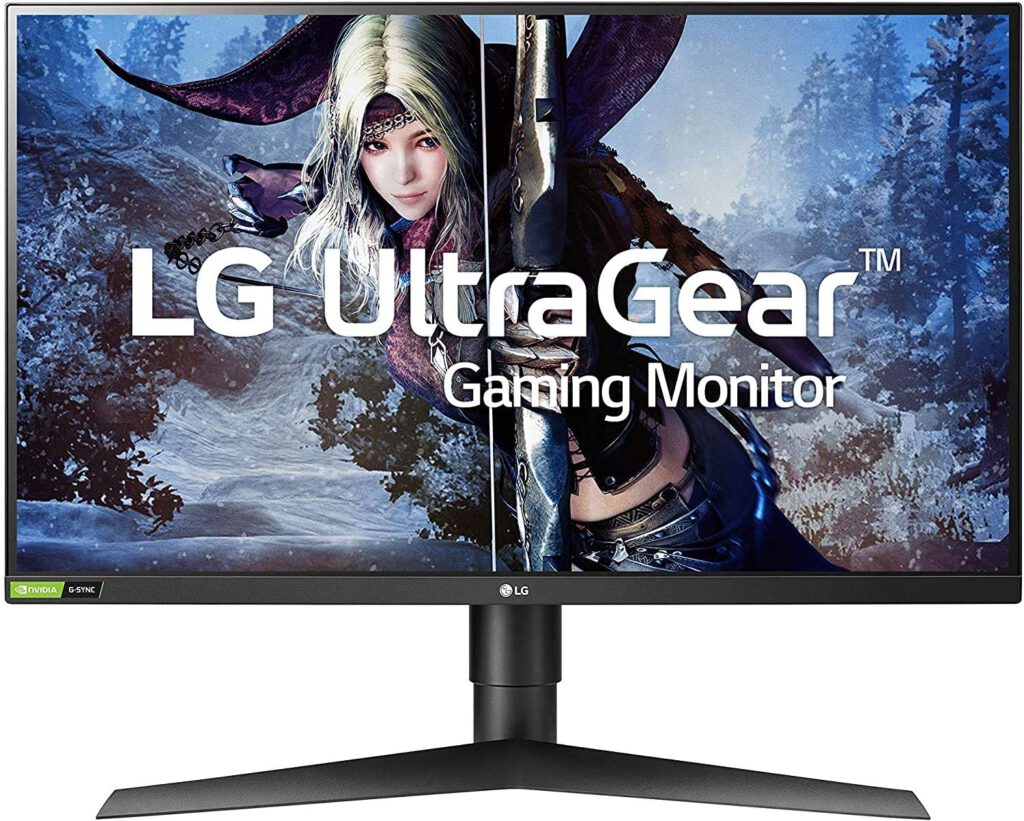 LG 27GN950-B
Screen Size: 27″, 16:9
Resolution: 4K
Refresh Rate: 144 Hz
Response Time: 1ms
Price: € 410 / $ 500
Released in August 2020, this 27" gaming monitor has some of the most amazing specs: from 144Hz response time to NVIDIA's new G-sync technology.
Additionally, the screen uses LG's Nano IPS technology, which means that the LED backlight absorbs excessive light wavelengths to increase the color range of a display.
All this makes the LG 27GN950-B perfect for content creators who manage professional workloads in Photoshop and Premiere Pro.
All these new technologies make the LG 27GN950-B futureproof, which means that he will be at the top of our ranking for a while. The only thing you will have to take into account is that your graphics card will handle all these settings.
Pros
Tin borders, great for a multi-monitor setup
High 4K resolution
Incredible response time
Cons
Not Curved
Oversaturated sRGB mode
---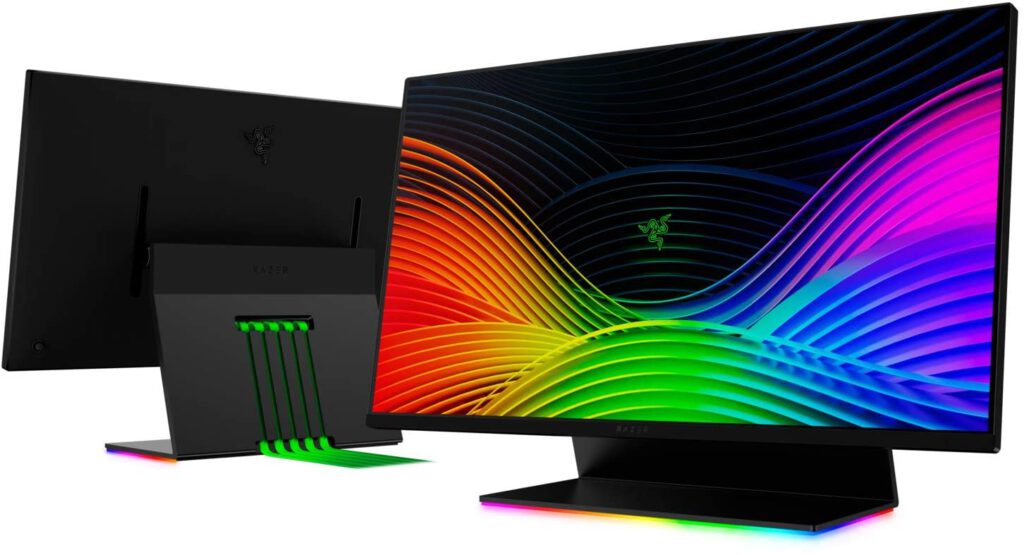 Razer Raptor 27
Screen Size: 27″, 16:9
Resolution: 2560 x 1440
Refresh Rate: 144 Hz
Response Time: 4ms
Price: € 720 / $ 875
he first thing which will amaze you about the Razer Raptor 27 is its great build quality. It has a sturdy frame, which allows you to tilt and move your screen up and down. Additionally, the Razer Raptor 2 monitor is equipped with its own cables and cable ducts, which shows that they have thought of all the details during this monitor's production. Keep an eye on; the tight ducts can sometimes be impractical.
The monitor itself has all the necessary settings: an IPS panel that ensures a high-quality brightness and color production that supports HDR 400.
Razer has even created software that allows you to adjust the RGB lighting effects in the monitor stand with a single click.
Pros
Excellent design
Great build quality
144Hz refresh rate
Cons
Impractical cabling
'Only' a 4ms response time
---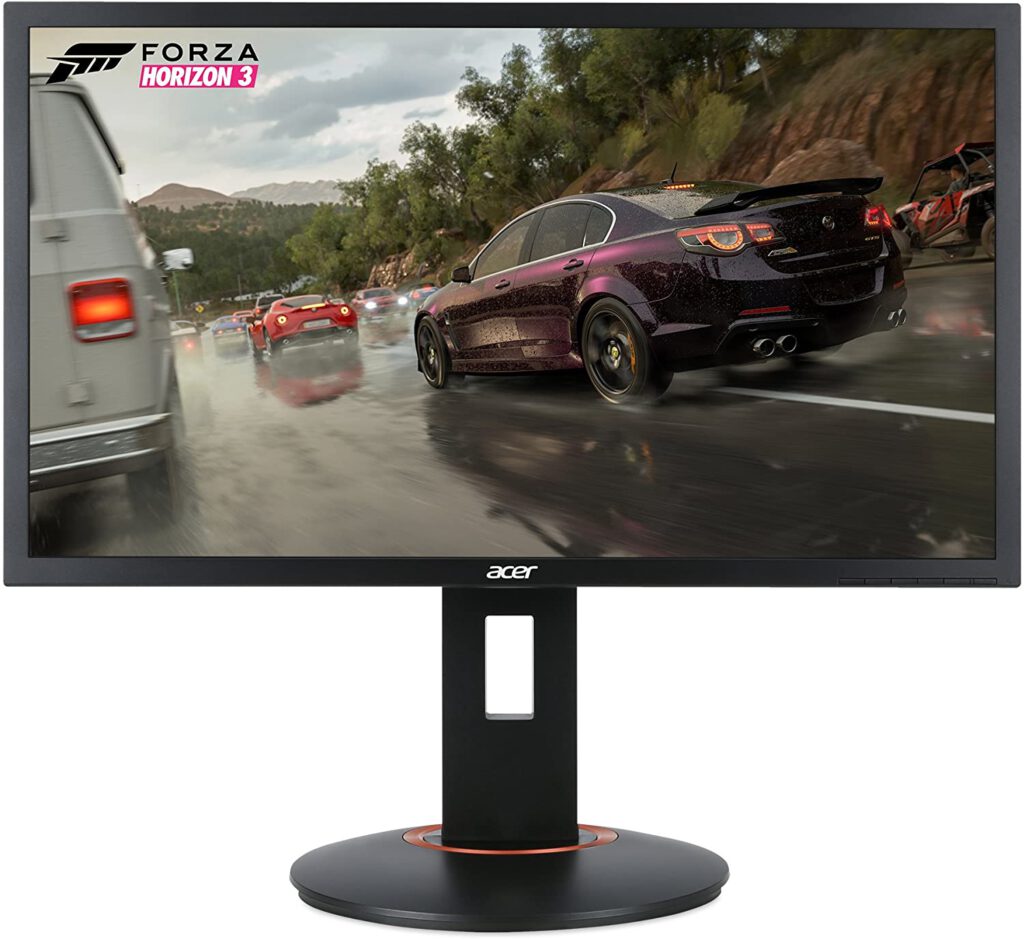 Acer XFA240
Screen Size: 24″, 16:9
Resolution: 1920 x 1080
Refresh Rate: 144 Hz
Response Time: 1ms
Price: € 200 / $ 245
The Acer XFA240 is known as the best budget gaming monitor on the market for both PC as console gamers.
We dare to make this statement because this 24″ monitor offers a refresh rate of 144Hz, for less than 200 euros. Granted, it can't handle 4K resolution, but that's something most consoles don't even offer.
Acer has also equipped the XFA240 with blue light technology, which would make it easier to sit behind the screen for a longer period of time without bothering your eyes.
Pros
Simple design
Cheap
Incredible response time
Cons
The stand doesn't turn
No 4K resolution
---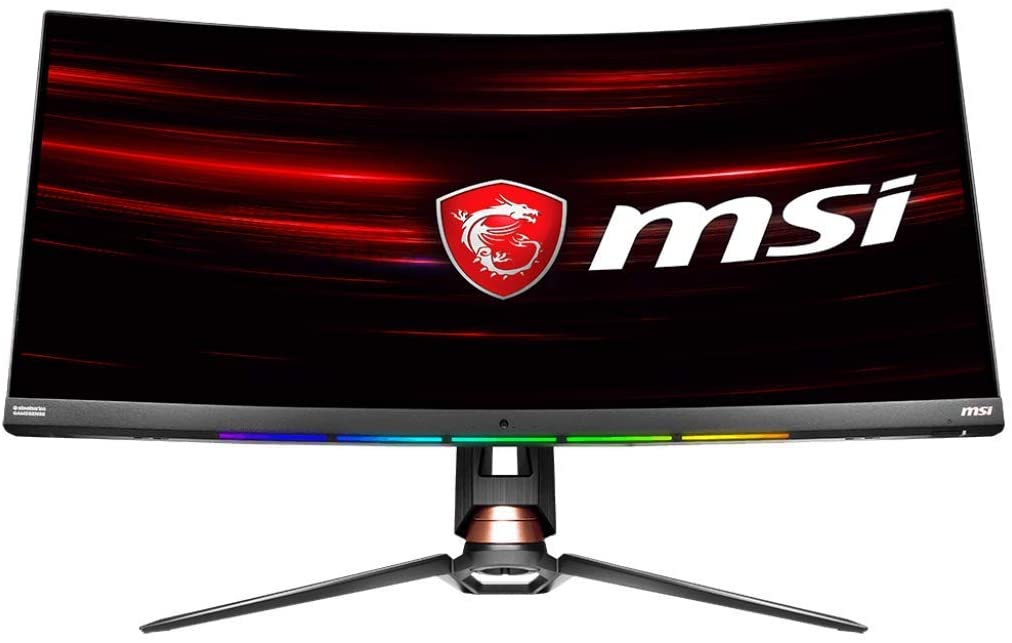 MSI Optix MPG341CQR
Screen Size: 34″, 16:9
Resolution: 3440 x 1440
Refresh Rate: 144 Hz
Response Time: 1ms
Price: € 750 / $ 910
The MSI Optix MPG341CQR is a 34 ultra-wide and curved screen with a 144 Hz refresh rate.
What makes this monitor so unique is its built-in webcam (which unfortunately does not have enough quality for live streams). Furthermore, the screen does have a solid finish, including various RGB LED finishes.
Because the screen dates back to July 2019, the price has also dropped slightly, making it very interesting for streamers.
Pros
Incredible response time
Curved screen
Great design
High resolution
Cons
Built-in webcam unusable for streaming
---
Other sites also recommend …
As we can't test every monitor released in the market so, we thought we'd include some of the monitors that some other reputable sources have mentioned. Keep in mind that most of these other sites included the same recommendations that we have given above.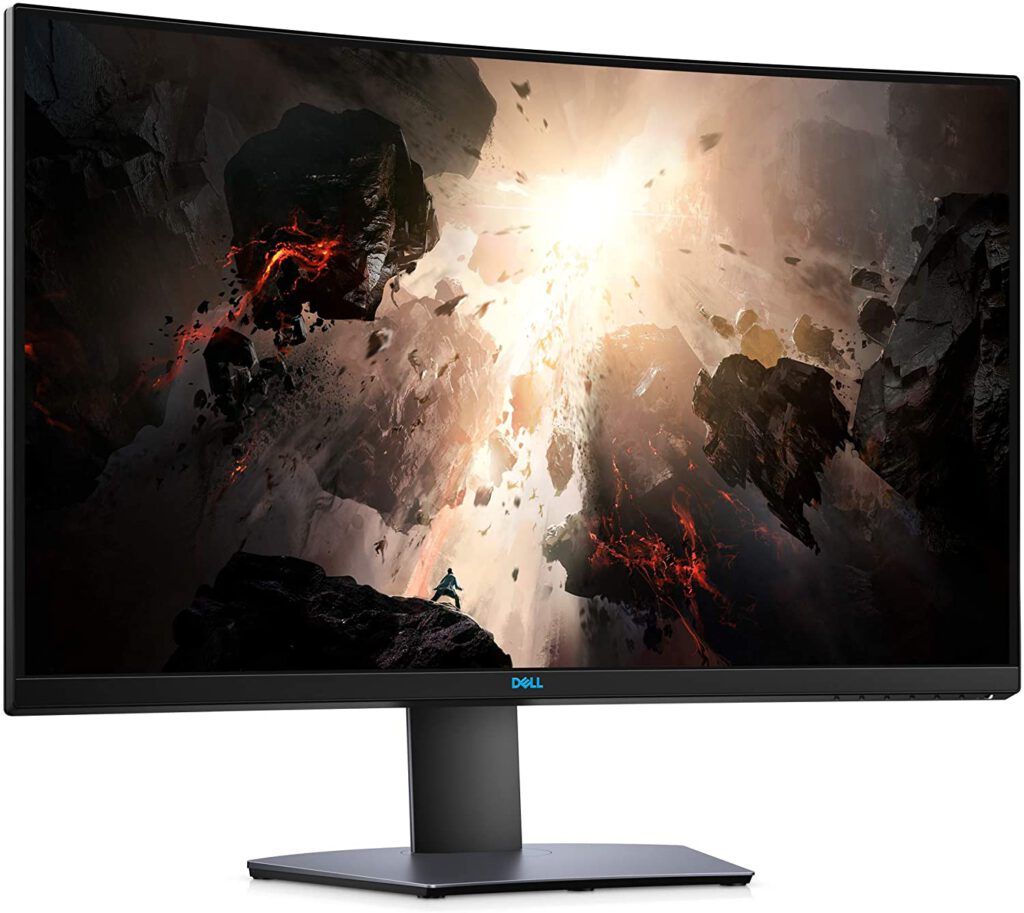 Dell S3220DGF
Screen Size: 32″, 16:9
Resolution: 2560 x 1440
Refresh Rate: 165 Hz
Response Time: 4ms
Price: € 425 / $ 515
---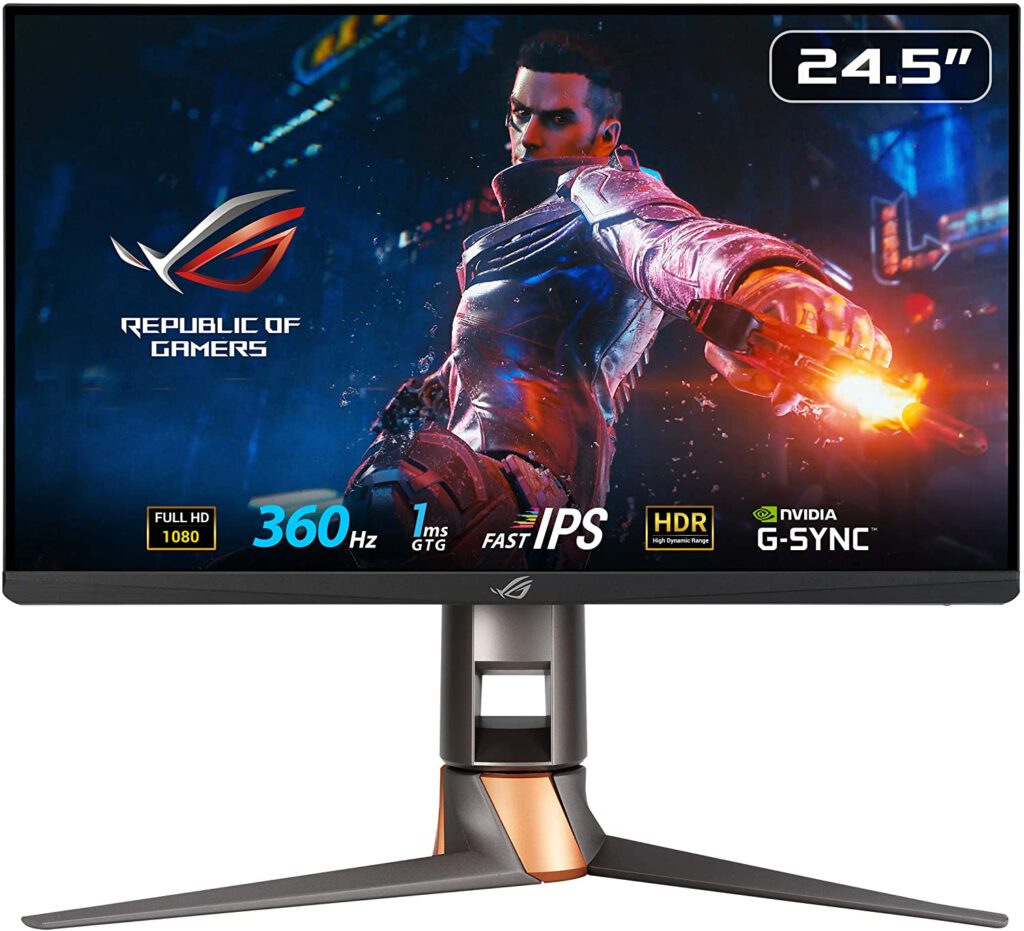 Asus ROG Swift PG259QN
Screen Size: 24.5″, 16:9
Resolution: 1920 x 1080
Refresh Rate: 360 Hz
Response Time: 1ms
Price: € 770 / $ 935
---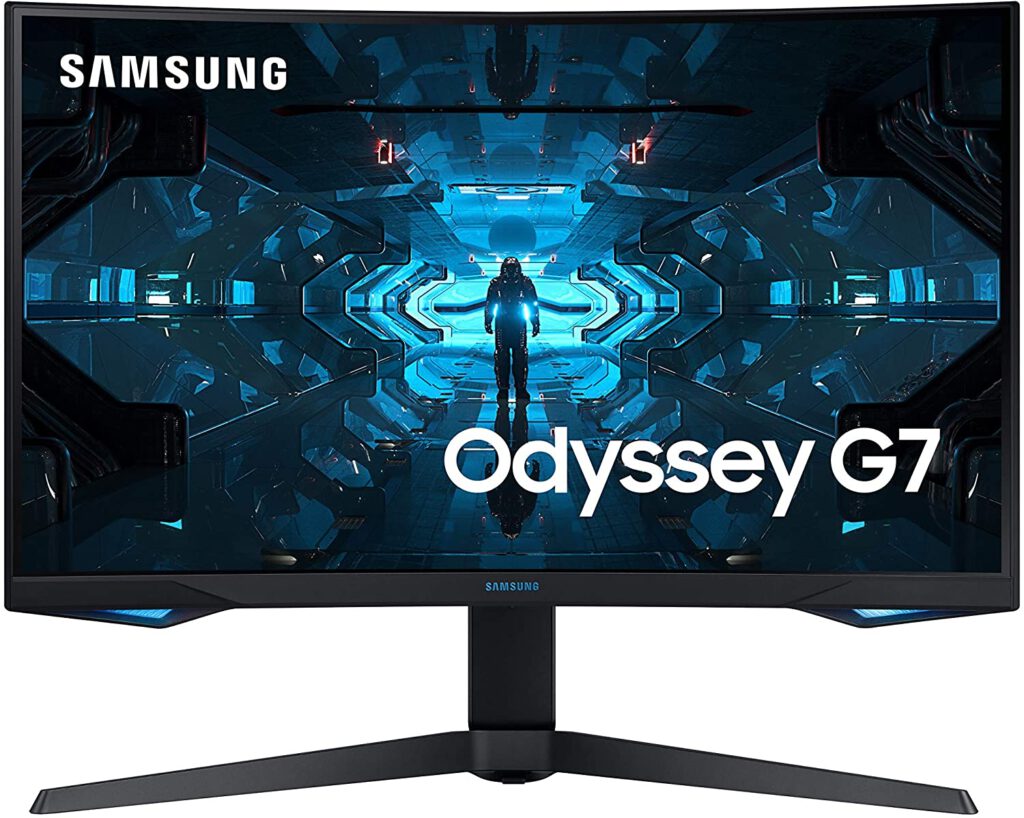 Samsung Odyssey G7
Screen Size: 32″, 16:9
Resolution: 2560 x 1440
Refresh Rate: 240 Hz
Response Time: 1ms
Target price: € 600 / $ 730
---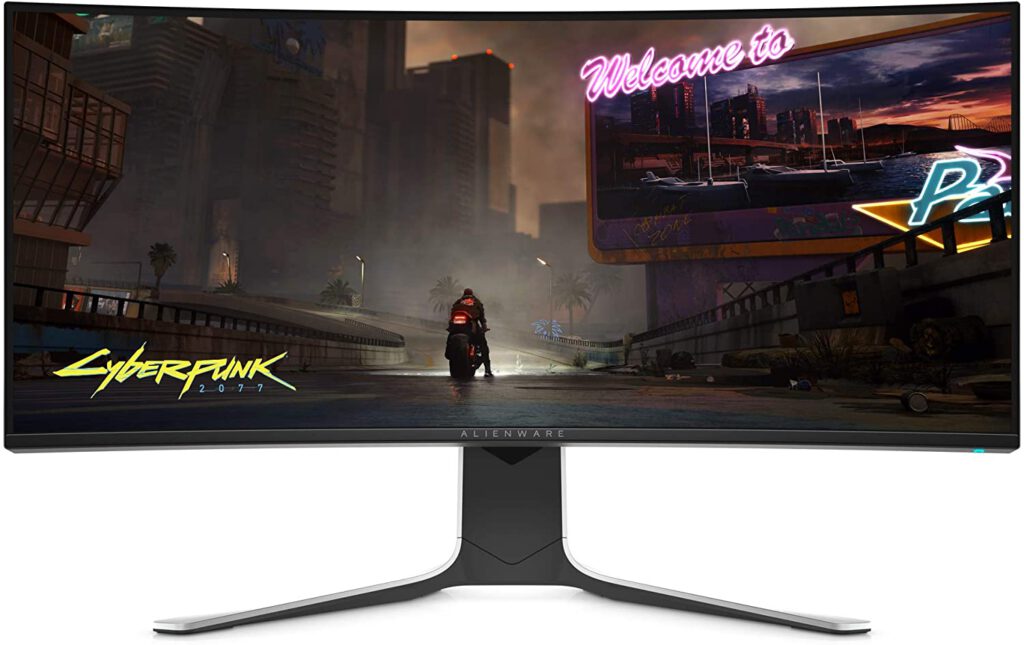 Alienware AW3418DW
Screen Size: 34″, 21:9
Resolution: 3440 x 1440
Refresh Rate: 120 Hz
Response Time: 4ms
Target price: € 1049 / $ 1275
---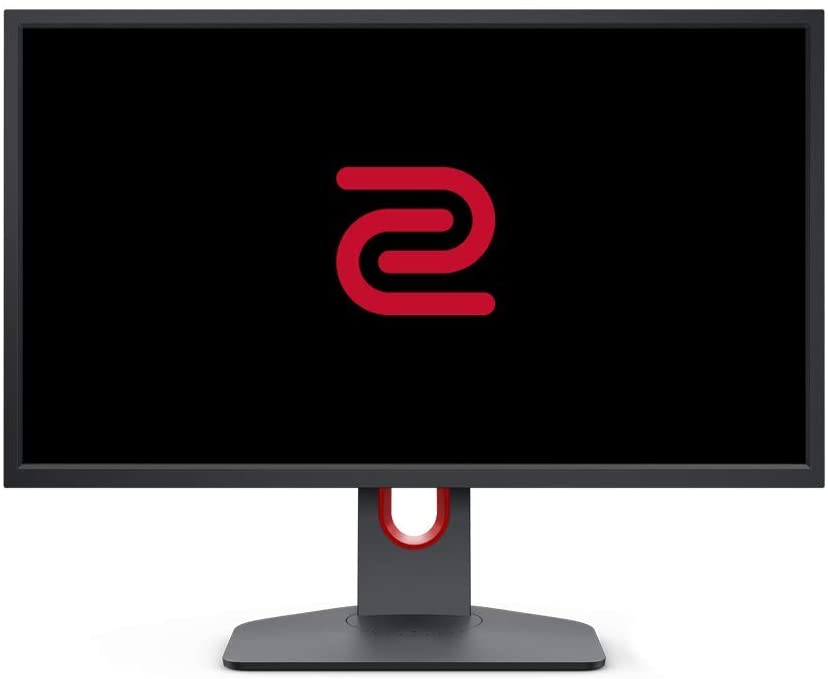 BenQ Zowie XL2540
Screen Size: 27″, 16:9
Resolution: 1920 x 1080
Refresh Rate: 240 Hz
Response Time: 1ms
Target price: € 545 / $ 660
---
Samsung LC27F396FHUXEN
Screen Size: 27″, 16:9
Resolution: 1920 x 1080
Refresh Rate: 60 Hz
Response Time: 4ms
Target price: € 170 / $ 205
We use affiliate links to keep our website running. This does not affect our product selections or ratings.