When it comes to making your first streaming setup, or just upgrading your current one, there are some classic pieces of tech that people focus on. Some streamers hyperfocus on their lighting options, while other gamers spend their entire budget and hours on eBay getting their hands on the best graphics card their money can buy while skimping on the rest of the machine, but there is less information out there covering the true core of your computer; The motherboard.
You don't replace the motherboard as often as you might replace other parts of your setup, so it makes sense that there is less knowledge out there, but having the right motherboard ensures that all of the fancy equipment you buy is truly preforming it's best, and is the glue that holds your entire machine together.
If you're a little lost when it comes to motherboards, we have you covered. What's the best one and what are the alternatives? We have them here.
Our top-rated Gaming Motherboard: Asus TUF Gaming Z590-Plus WIFI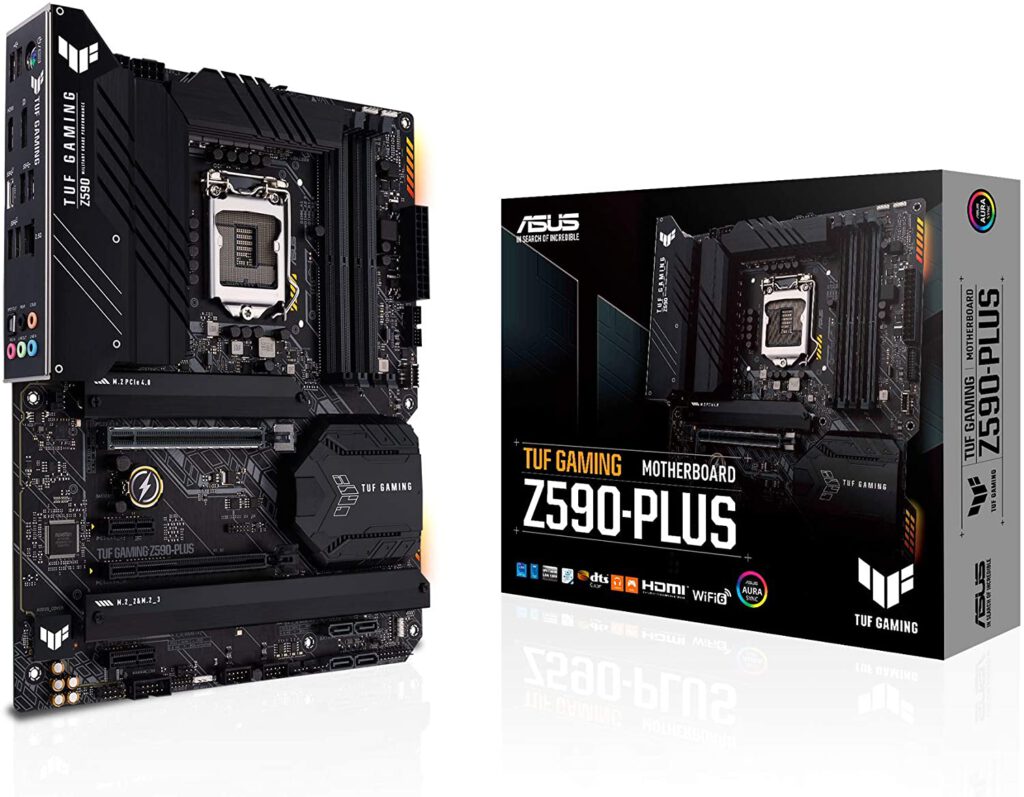 In our opinion, the Asus TUF Gaming Z590-Plus WIFI is currently the best motherboard on the market. This is mainly because of its overall "value vs performance"-ratio.
Price: € 205 / $ 238
For more recommendations and reviews, keep reading below.
What Does A Motherboard Do?
A motherboard, as we mentioned, is mission control. Though the CPU is technically the central BRAIN, the Motherboard can be considered the nervous system of your computer, ensuring that everything talks to one another and is running smoothy.
It's critical to keep in mind that how 'fast' a computer is, is partially a communication issue. It doesn't matter if you have the Best Graphics Card if it's taking its sweet time communicating to the CPU. That is how you end up with frustrating lag or general slow performance that is going to cripple your streaming experience.
The motherboard, as the nervous system of the computer, runs all the connections between parts, so a cheap motherboard makes your computer feel cheap, no matter how much money you spend on other parts. If things can't talk fast enough, nothing else matters when it comes to speed.
How to Recognize a Good Motherboard?
Good motherboards share several critical qualities. The first is the absolute speed that the motherboard promises. This speed is often communicated in Gigabits per second (GBps) to show how much information the connections can share in a second. That said, you can generally keep an eye out for the best kinds of connectors. In 2021, look for PCIE 4 connectors. There is a lot of technical stuff behind how PCIE connectors work, but the main thing to keep in mind is that it's TWICE as fast as the last GEN PCIE 3. PCIE 4 is an essential speed boost.
The second thing you need to look is the connection ports on the motherboard. The motherboard is the place that all of your important tools: mouse, headphones, cooling systems and more, plug into. The connections on a motherboard become doubly important if you're upgrading your current system with a new motherboard. You don't want to buy sweet new tech and then discover that it's incompatible with your water-cooling system.

If you're purchasing a motherboard for a new rig, ensure that it has all the back and front panel accessory options that you want for your system; Think HDMI cables and USB-C ports.
Finally, when you're looking at a motherboard, make sure to check out how they handle their internal cooling. Though you're going to have a fan or water based cooling system in your PC, you need to know that the motherboard isn't going to cook itself. Heat dispersion is critical for a stable rig.
Do I Need to Overclock my Motherboard?
Technically you overclock your CPU, which is important to keep in mind, but the motherboard is the most important part of determining if you should be overclocking at all. First things first; overclocking is simply going into the BIOS settings of the computer and forcing your CPU to work harder than the manufacturer intended. It's nothing too fancy, and generally gamers overclock in the pursuit of a little more processing speed.
Do you need to overclock? No. That said, if you're considering overclocking the CPU, keep in mind that your motherboard needs to take the literal heat. The biggest thing here is the internal heat dispersion that we mentioned earlier. Internal motherboard heat dispersion is going to protect your CPU during overclocking. Without the right dispersion you shouldn't play around in the BIOS settings.
That said, the heat dispersion for serious, consistent overclocking is going to cost you. The ASUS TUF Gaming Z590 can handle some overclocking, but if you're gonna get serious about it your motherboard becomes a lot more expensive.
How Important is your CPU for your Motherboard?
The motherboard is the nervous system for the PC, and controls how fast everything is, but you do need to ensure that you have a powerful enough CPU to read all the information that the motherboard and your hard drives are sending. The easiest short hard is that, if you're buying a motherboard in 2021, you need an 11th Gen CPU. Even the forgiving ASUS Z590 we suggested above requires a 11th Gen CPU to reach PCIE 4 speeds (Which are twice as fast! Remember?) So, make sure you don't get a sweet motherboard, and then drop the ball on the CPU.
How important is RAM compatibility with a motherboard?
Generally speaking, both your CPU, Motherboard, and RAM must all be compatible with each other, or your computer won't work. Luckily, most recent motherboards are using the DDR4 technology, making sure there is nearly a 100% chance that they will work together.
The only chance that the RAM won't fit in is when you mix up the slats of a laptop with those of a desktop.
If you want to learn more about the best RAM for streaming, we advise you to read our RAM buyer's guide.
Does My Motherboard Need to Be Metal?
Not necessarily! There are lots of great motherboards that use a hard plastic casing for most of their structure. That said, whether it's plastic or metal, the motherboard needs to be sturdy. This is less because the motherboard is going to be shaking around and more because it's the central part of the computer. Everything you buy and build is going to be plugged into and affixed to the motherboard, so you need to make sure it's well made and easy to work with.
Top 3 Motherboards for Streaming on twitch
Though the CPU is technically the central brain, the Motherboard can be considered the nervous system of your computer, which ensures that every component talks to one another and is running smoothy. This makes it one of the most important investments you can make as a streamer.

That's why we tested various system boards and listed three of our favorite motherboards for streaming on twitch that we think will help your gaming process go even further.
---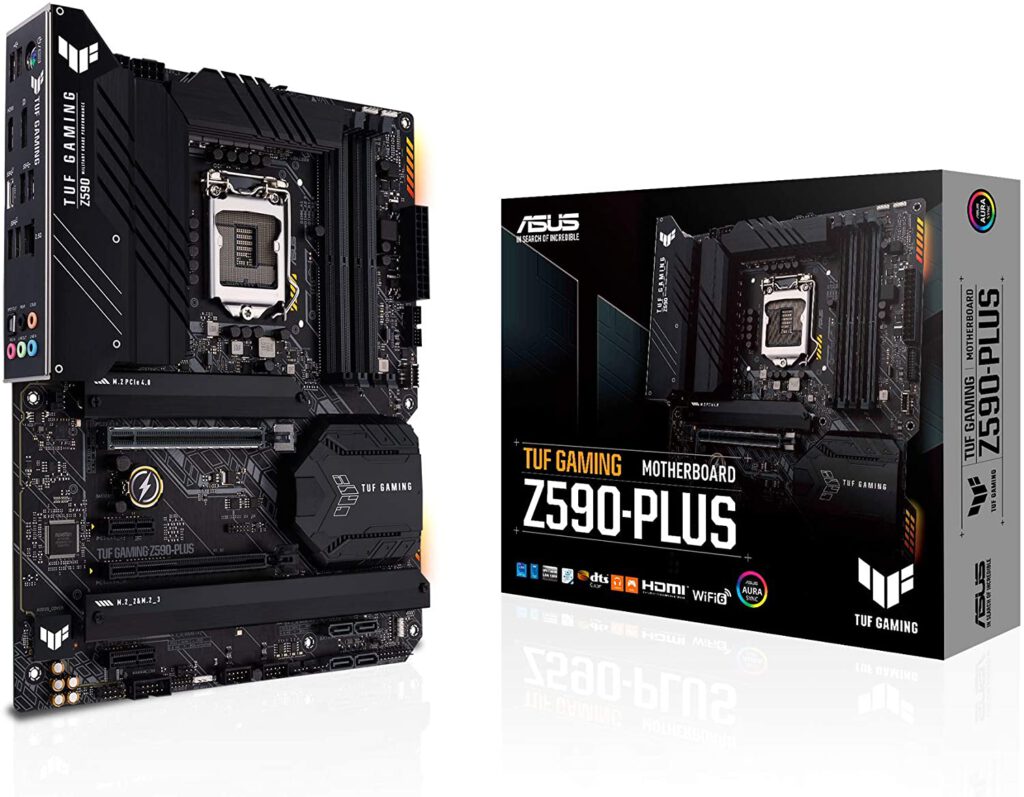 Asus TUF Gaming Z590-Plus WIFI
CPU Socket: LGA 1200
RAM Memory technology: DDR4
Chipset Type: Intel Z590
Memory Speed: 5333 MHz
RAM Memory Maximum: 128 GB
Graphics Card interface: PCI-E
Price: € 205 / $ 238
When it comes to motherboards for streaming, you're not going to find a better "value vs performance"-ratio than the Asus TUF Gaming Z590. Though there are admittedly more overall powerful system boards options on the market, the Asus TUF Gaming is going to get most of their job done despite being several times cheaper than the alternatives.
That said, just because the price is fantastic doesn't mean that this is a 'budget board' and you'll be better off with something more expensive, the ASUS Z590 swings well above it's weight class in a lot of critical ways that will ensure your PC keeps running smooth as silk no matter what kind of torture you put it though. This is critical because the Motherboard is mission control, and ensuring that everything runs smoothly is its most important job.
Pro
Powerful Core for the Price
Supports both 10th and 11th Gen Hardware
Strong Independent Cooling
Premium Build and FeelUp to 3 fast SSDs
Cons
Won't fit in Water-cooled setups
Requires 11th Gen Core for Best Performance
---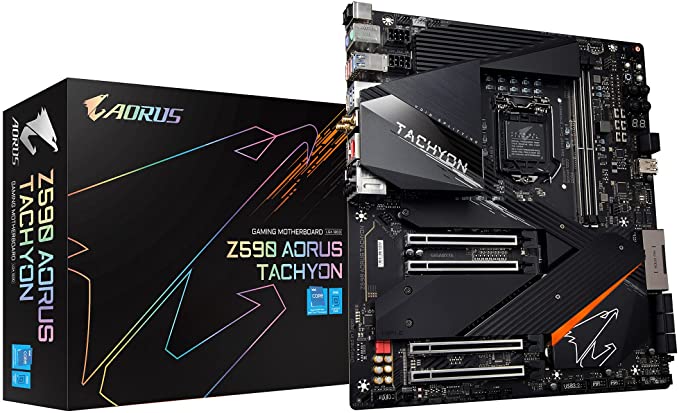 Gigabyte Z590 Aorus Tachyon
CPU Socket: LGA 1200
RAM Memory technology: DDR4
Graphics Card interface: PCI-E
Price: € 458 / $ 530
This Motherboard was built with options in mind, and that means that it mostly specifically caters to over clockers and enthusiasts who are looking to tweak their PC over and over again until it's running exactly how they like it. In order to get it to this place, the motherboard does sacrifice some features, like additional memory slots, that we consider important, especially to people who aren't going to play around much with their mother board's settings.
That said, if you're the kind of person who wants to milk everything you can of our your setup for optimal FPS, the Gigabyte Z590 Aorus Tachyon is definitely going to be the machine to do it.
Pro
Incredibly Flexible
High Volage
Fantastic Internal Cooling
Great Option for Experienced Tweakers
Cons
Subpar out-of-the-box
Requires hefty knowledge to optimize
---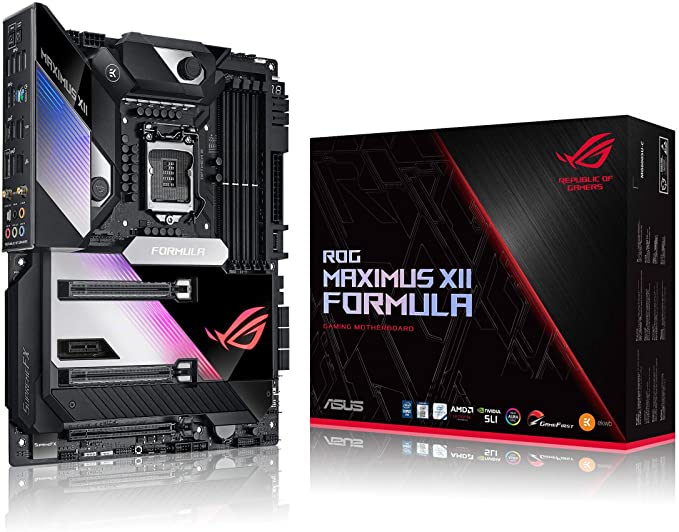 Asus ROG Maximus XII Extreme
CPU Socket: LGA 1200
RAM Memory technology: DDR4
Chipset Type: Intel Z490
Memory Speed: 4700 MHz
RAM Memory Maximum: 128 GB
Graphics Card interface: PCI-E
Price: € 401 / $ 465
Back to the Z490's, the Maximus XII Extreme is still a fantastic option. You know, if you can afford it.
When it comes to the actual power and speed of this thing, let's be clear, it's best in class across the board. Technically the MSI Godlike is a little faster out of the box, but if you're overclocking your CPU at all, the Maximus Extreme is going to blow it out of the water.
This thing is filled with luxury features and has a luxury feel that makes it worth the price tag. That said, you could build a half-decent rig for the price of this bad boy, so we recommend it, but it's hardly a practical recommendation for most of us.
Pro
Highest level performance
Beautiful Build Quality
Cons
Priced for the Monopoly Man
---
Other sites also recommend …
As we can't test every system board released in the market, we still think it's important to show you some options that sites other than ourselves featured on their top-lists. Keep in mind, all of these sites also are going to have covered our options above, so we know it's a fair comparison.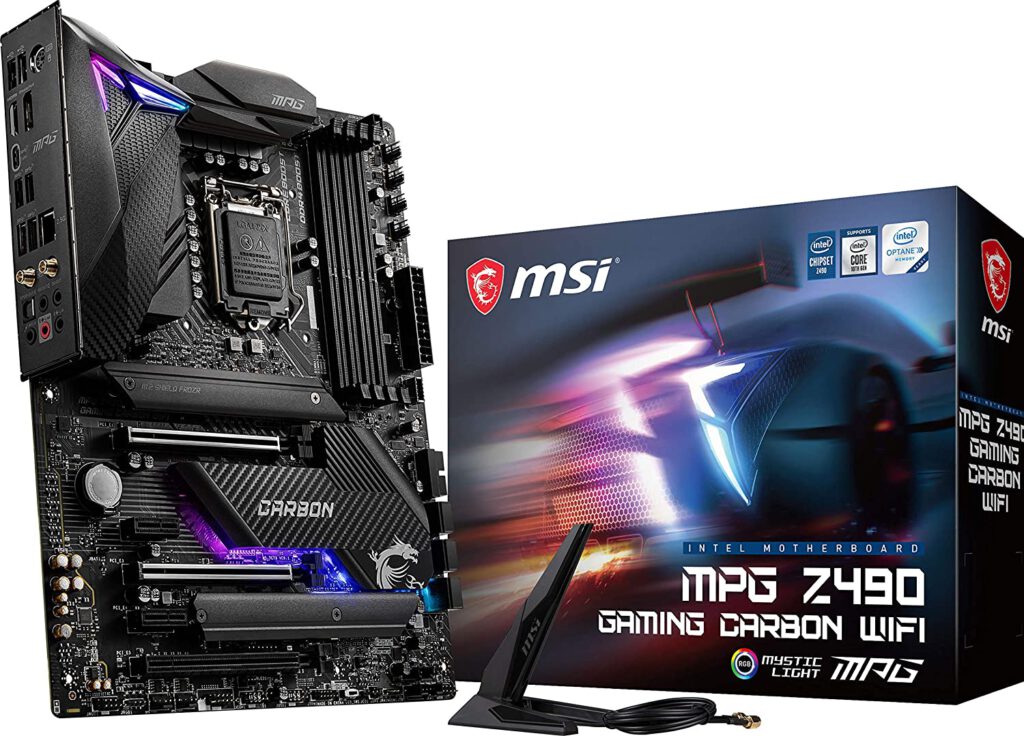 MSI MPG Z490 Gaming Carbon
CPU Socket: LGA 1200
RAM Memory technology: DDR4
Chipset Type: Intel Z490
Memory Speed: 4800 MHz
RAM Memory Maximum: 128 GB
Graphics Card interface: PCI-E
Price: € 233 / $ 270
---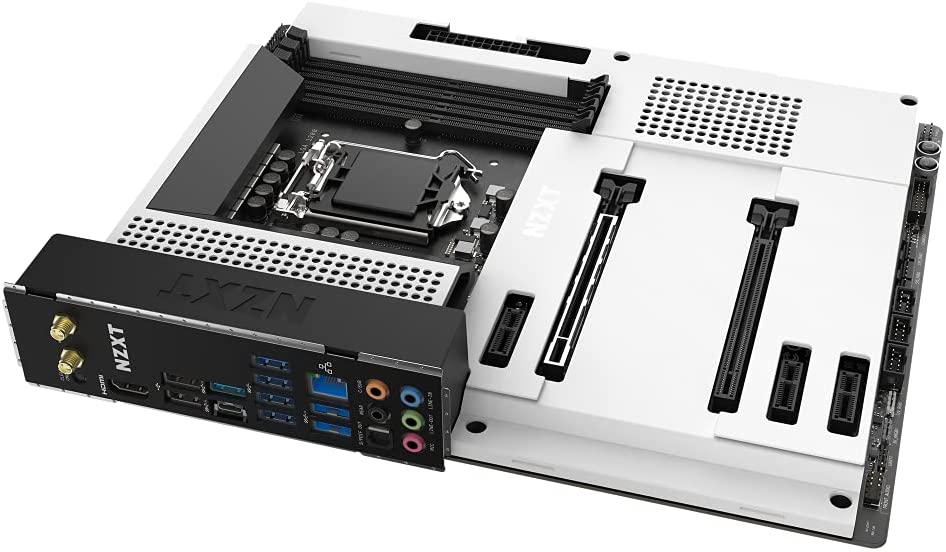 NZXT N7 Z590
CPU Socket: LGA 1200
RAM Memory technology: DDR5
Graphics Card interface: PCI-E
Price: € 240 / $ 280
We use affiliate links to keep our website running. This does not affect our product selections or ratings.