Both CPUs as Graphics Cards are essential for gaming rigs and live streaming setups. In this article, we will be discussing what's important when you're looking into buying a new graphics card and break down all of the different options available so you can find the perfect setup for your needs.
Our top-rated Graphics card: MSI NVIDIA GeForce RTX 3070 Ventus 3X OC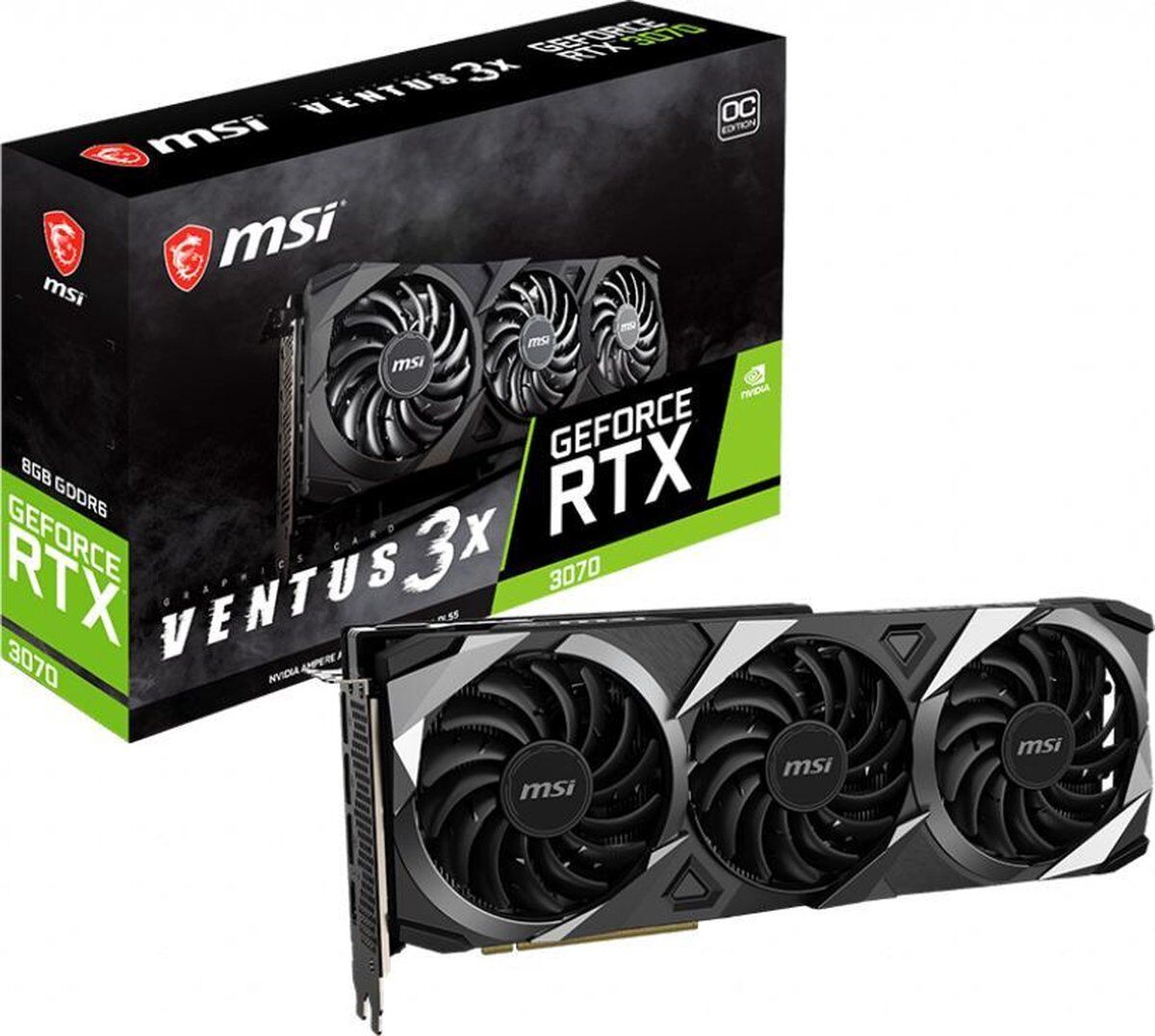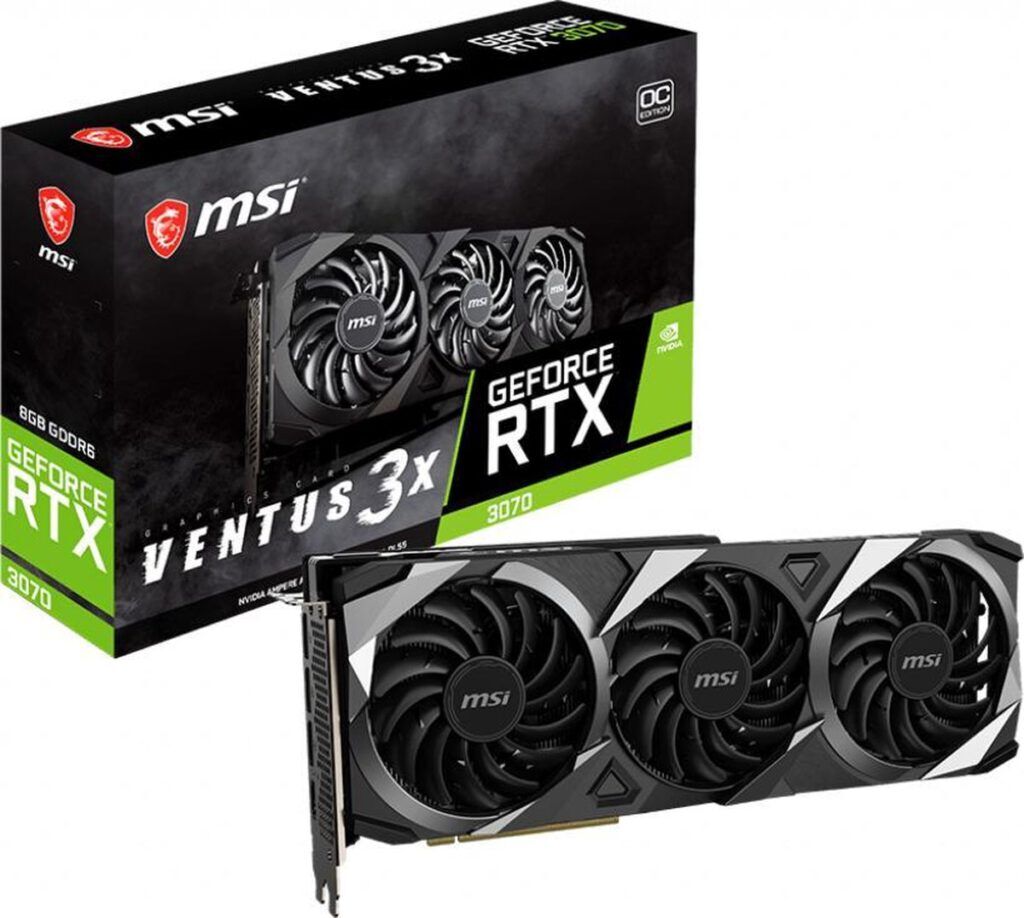 In our opinion, the MSI GeForce RTX 3070 is currently the best (budget) graphics card on the market. This is mainly because of its overall value: excellent quality, reasonable price, and strong cooling.
Price: €1050 / $1250
For more recommendations and reviews, keep reading below.
What does a graphics card do?
The primary function of a graphics card is to transfer the data from your CPU to your monitor.
Additionally, they also process the data that a CPU can't handle. This is because the CPU power is limited by bandwidth and memory accesses constraints, making the workload that modern games require (200+ frames per second) too high.
This means that high-quality Graphic cards need a high-performance CPU to function and to reach their full potential. As mentioned in our guide for finding the best gaming monitors; Our frame rate will affect responsiveness and smoothness, significantly so having a decent graphic card combined with enough CPU power is crucial when you're looking to upgrade your gaming rig setup!
How to recognize a good Graphics card?
The graphics card is the component they'll give the most thought to for many gamers because it makes the gaming experience more immersive. Due to a shortage of GPUs due to the COVID Pandemic, prices have risen enthusiastically, making it vital to weigh the price of a new Graphics card against its extra performance.
When you have a limited budget to consider, we'd suggest adding new hardware and upgrade existing hardware periodically with your future upgrades in mind so it stays cost-effective.
How are you using it?
Most live streamers can be divided into gamers who play different types of games every often and die-hard gamers who buy the newest and most fast-paced games that add the most workload to both the Graphics card and the CPU.
The casual gamers will need a 'consumer card,' which is meant for content creation and lighter games, while the die-hard gamers are looking for a dedicated card to process heavy workloads and calculations.
MSI, AMD, and Nvidia
When you're looking for a new Graphics Card, you'll most definitely come across three brands: MSI, AMD, and Nvidia.
AMD
AMD is a leading company in the computer and video game industries; They started as manufacturers of semiconductors but expanded to create graphics cards for computers and game consoles like Sony's Playstation. Today they are one of the foremost innovators in both sectors with their powerful hardware.
MSI
MSI is a Taiwanese company with headquarters in Taiwan, and they have been designing computer components for other companies since 1986, when they co-founded MicroStar International with some partners.
In 1994, MSI became an independent company after breaking off its original business partner AMI (American Megatrends Inc).
Nvidia is a GPU chip designer, while MSI is a graphics card manufacturer.
Nvidia
Nvidia has been making graphics processing units for the gaming industry since 1999, and they have quickly become a favorite of gamers worldwide. With top-of-the-line graphics cards like the RTX 3090, their hardware is second to none.
How important is your monitor when picking a new GPU?
One of the main functions of the GPU is sending data from the GPU to your monitor.
The CPU, GPU, and computer monitor are all connected, which means that the computer's performance is as strong as the weakest link. In this case, the Computer monitor will determine the performance of the GPU.
Many mainstream cards are sufficient for gaming at 1080p resolutions at between 30-60 fps, but for gaming and live streaming, you'll need a high-end card for resolutions near 4K resolution. This allows you to configure the in-game settings as high on the most demanding AAA titles. That's why you want to make sure to pair your GPU's performance with the capabilities of your gaming monitor.
What to look for when buying a Graphics card for gaming?
Since the GPU is the beating heart of the computer, we'll have a lot to consider when we're looking for the perfect Graphics Card.
Monitor resolution
Firstly, we'll have to look at the monitor (s) we'll use with your computer. This is because the monitor is the deciding factor in what video resolution your computer can display. If you have a 4K resolution monitor, you should select a powerful graphics card that can quickly render 4K graphics.
This is because the higher the resolution of your monitor, the more pixels your GPU will have to process and thus the more performance you'll need.
Refresh Rate
Next to the resolution, we'll need to look at the refresh rate of your monitor.
The Refresh Rate of a monitor is expressed hertz (Hz) and shows how often the monitor updates the image displayed on your screen. All modern monitors support 60Hz, but gaming monitors can have refresh rates up to 144 Hz or more.
Video Memory
We already knew that the GPU renders or stitches together the graphical frame in its graphic cores, after which the frame stays in the virtual memory until it can be displayed on the screen. Logically: as the resolution of the frame increases, the requirement for GPU memory increases as well.
That's why Graphics Processing Units nowadays sport between 4 GB to 24 GB memory and are used for gaming, editing, mining, and content creation.
Form factor
The size of your Graphics card, sometimes referred to as the form factor, is crucial because it needs to fit your case. It's not uncommon for all these different GPUs to have other sizes or shapes to choose from.
Why is there a shortage of Graphics cards?
Unfortunately, COVID-19 has generated many supply chain issues for many technology fabricants, including the GPU manufacturers. Additionally, the rise of cryptocurrency mining has caused a shortage in the availability of new GPU cards.
Top 3 Best Graphics Cards for Streaming on Twitch
One of the most important investments you can make as a streamer is buying a good quality graphics card – and not just any graphics card! We tested various GPU's and listed three of our favorite graphics cards for streaming on twitch that we think will help your gaming prowess go even further.
---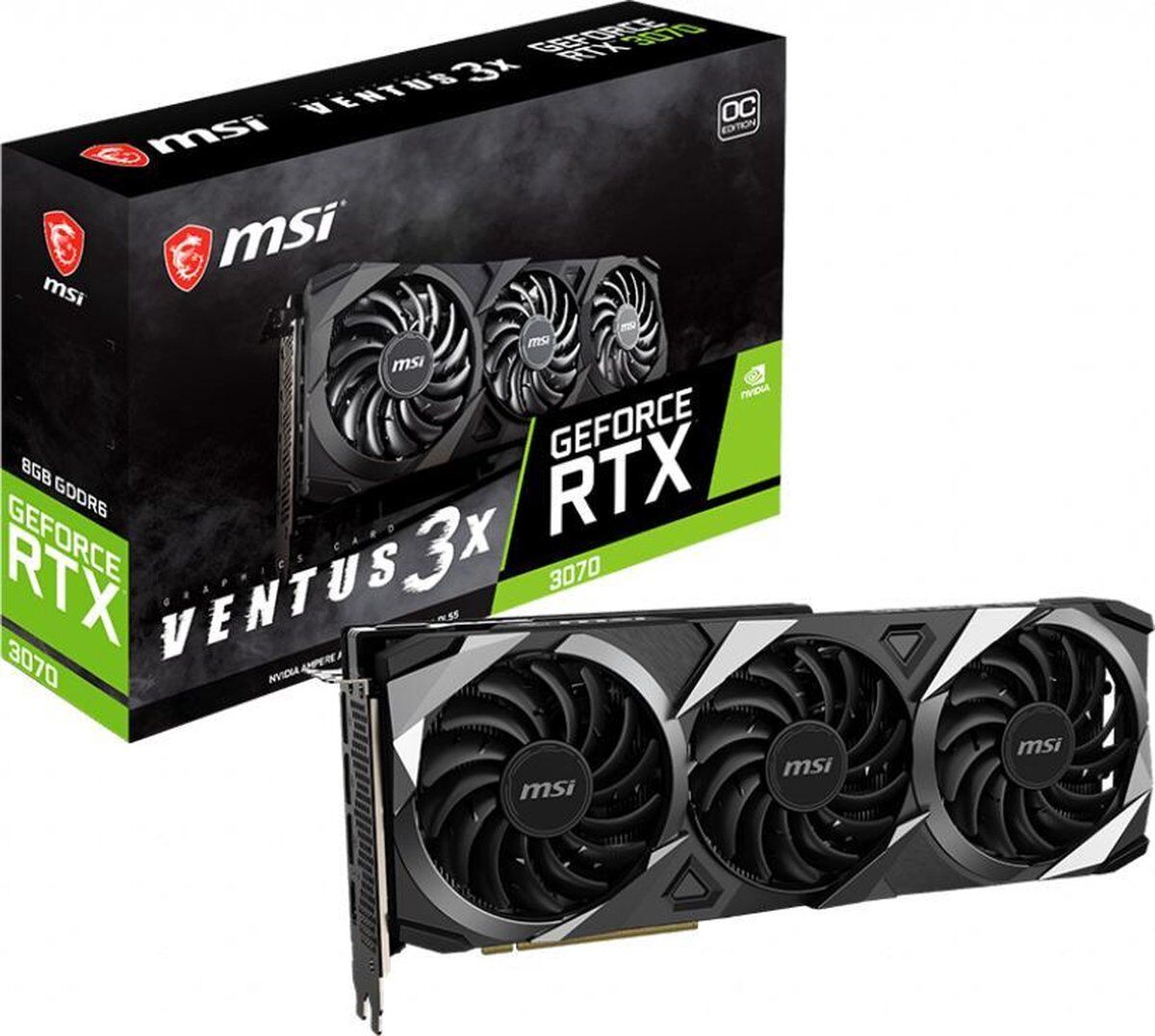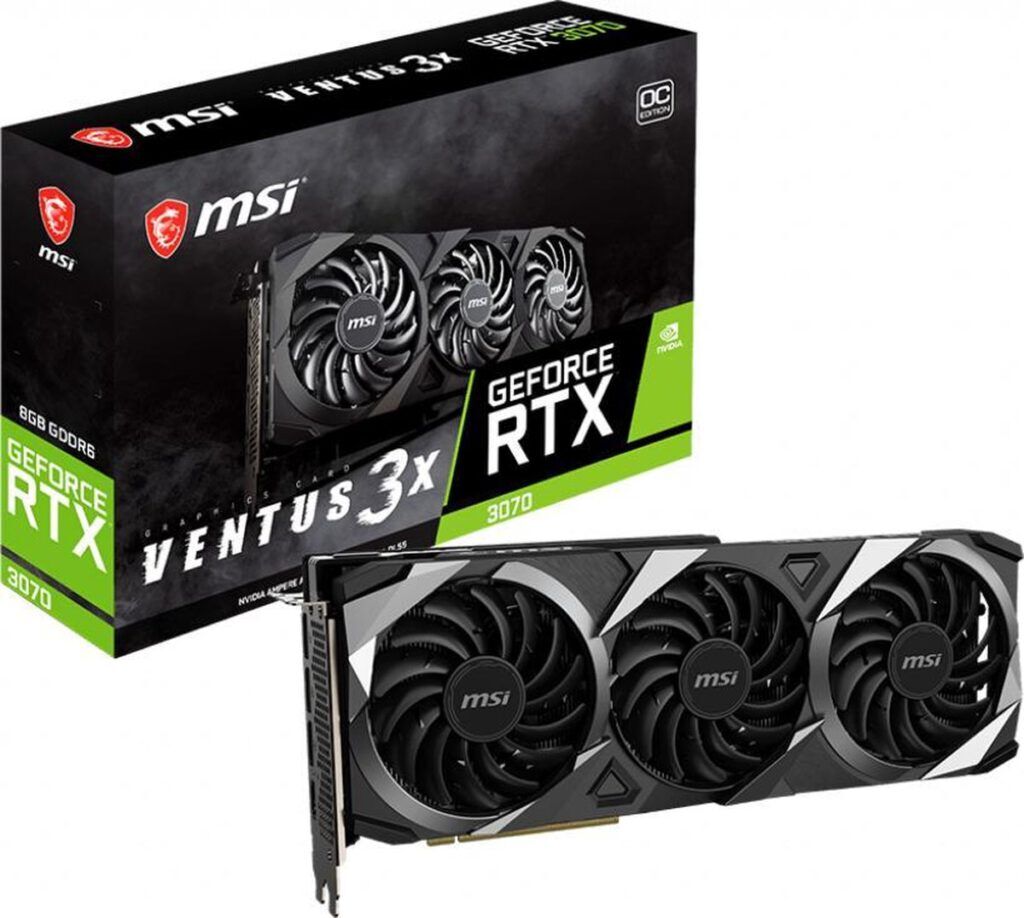 MSI RTX 3070
CUDA cores: 5,888
Base clock: 1,500 MHz
Boost clock: 1,725 MHz
TFLOPs: 20.37
Memory: 8GB GDDR6
Memory clock: 14 GT/s
Memory bandwidth: 448 GB/s
Price: €1050 / $1250
In our opinion, the MSI GeForce RTX 3070 is currently the only high-end graphics card that is available on the market for a reasonable price. This is mainly because it offers an overall value: excellent quality to affordable price and strong cooling.
The MSI GeForce RTX 3070 gaming performance is undoubtedly impressive, but it's the Nvidia ecosystem that makes it our pick.
Pro
Relatively low power compared to competitors
Strong cooling
Pricing
Cons
You can't reach 4K ultra at 60 fps in some games
---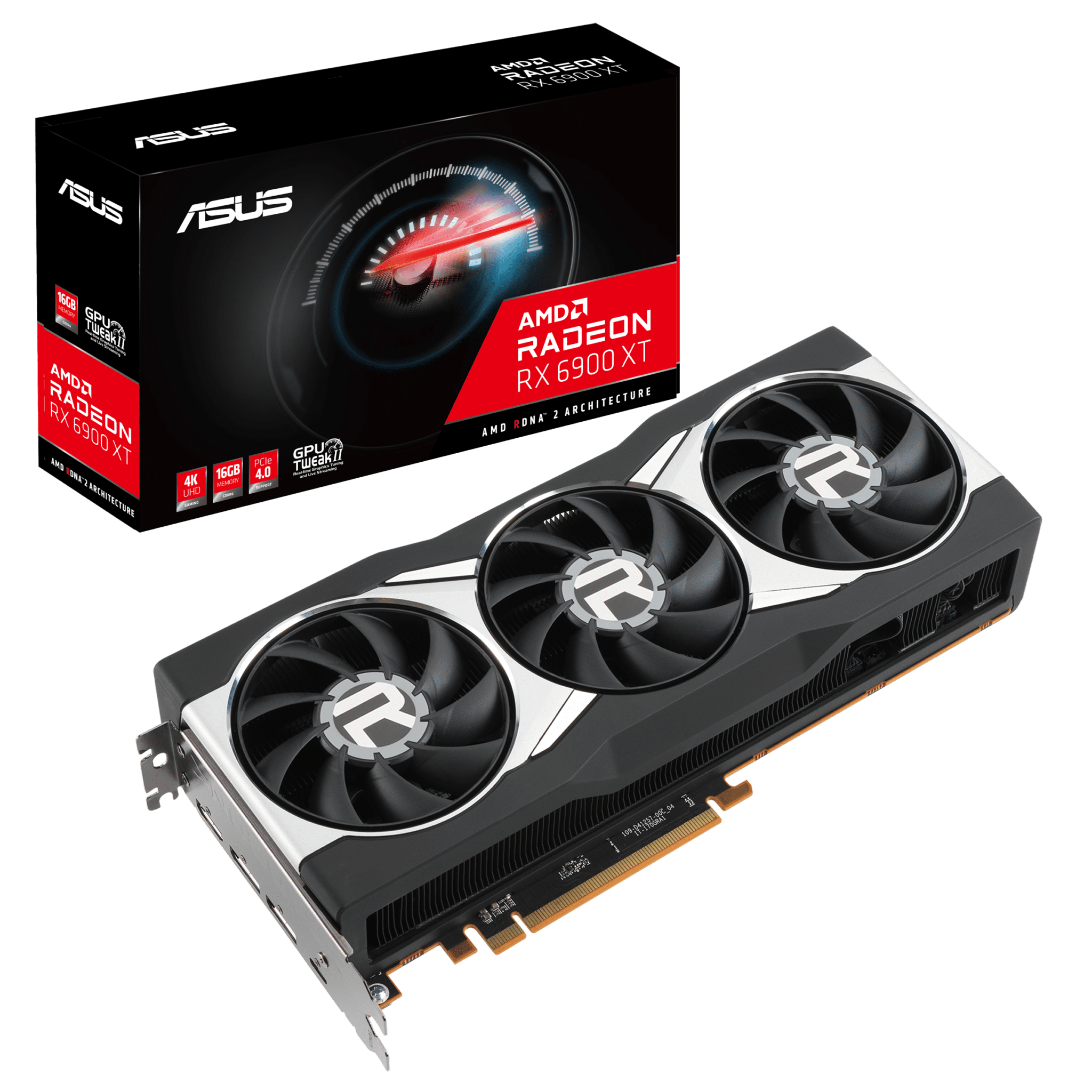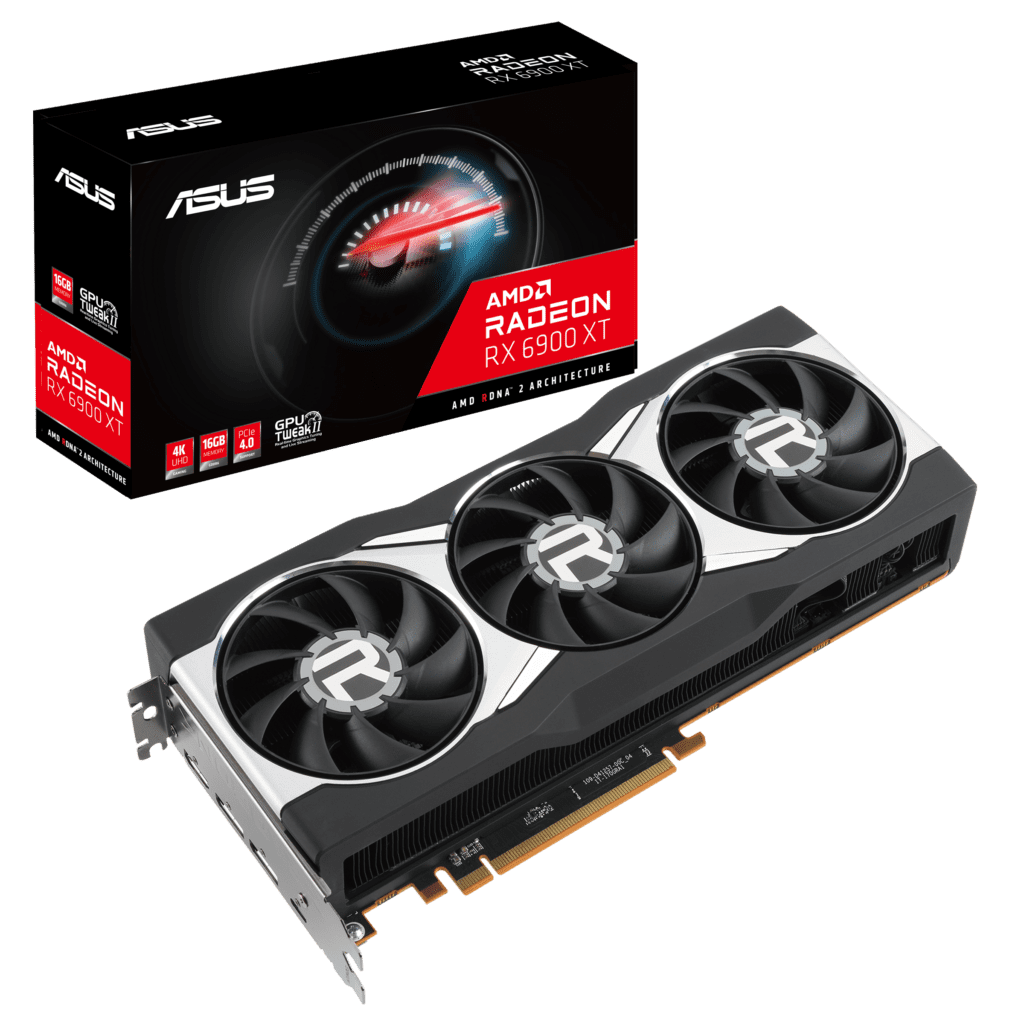 AMD Radeon 6900 XT
RDNA cores: 5,120
Base clock: 1,825 MHz
Boost clock: 2,250 MHz
TFLOPs: 23.04
Memory: 16GB GDDR6
Memory clock: 16 GT/s
Memory bandwidth: 512 GB/s
Price: € 1725 / $ 2050
Most AMD and Nvidia graphic cards have similar features, but Nvidia's implementations are better most of the time. However, this drives their price up, making some of the AMD GPUs attractive if you balance the cost of the card with its performance.
One of these AMD GPUs that found the sweet spot and functions as a real challenge to the MSI Nvidia graphic cards is the AMD Radeon 6900 XT.
Pro
AMD's Fastest GPU
Excellent overall performance
16GB VRAM
Cons
Almost impossible to find
---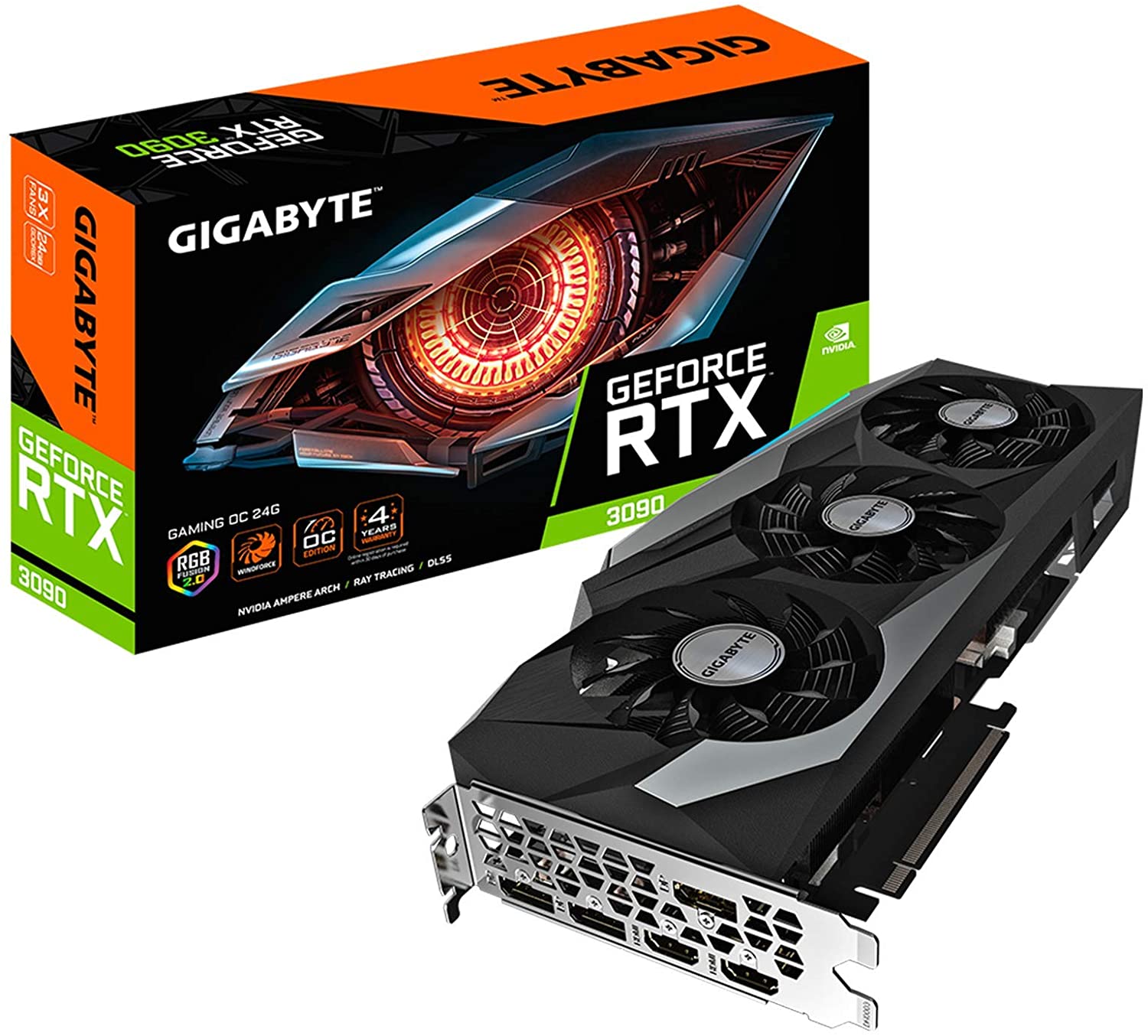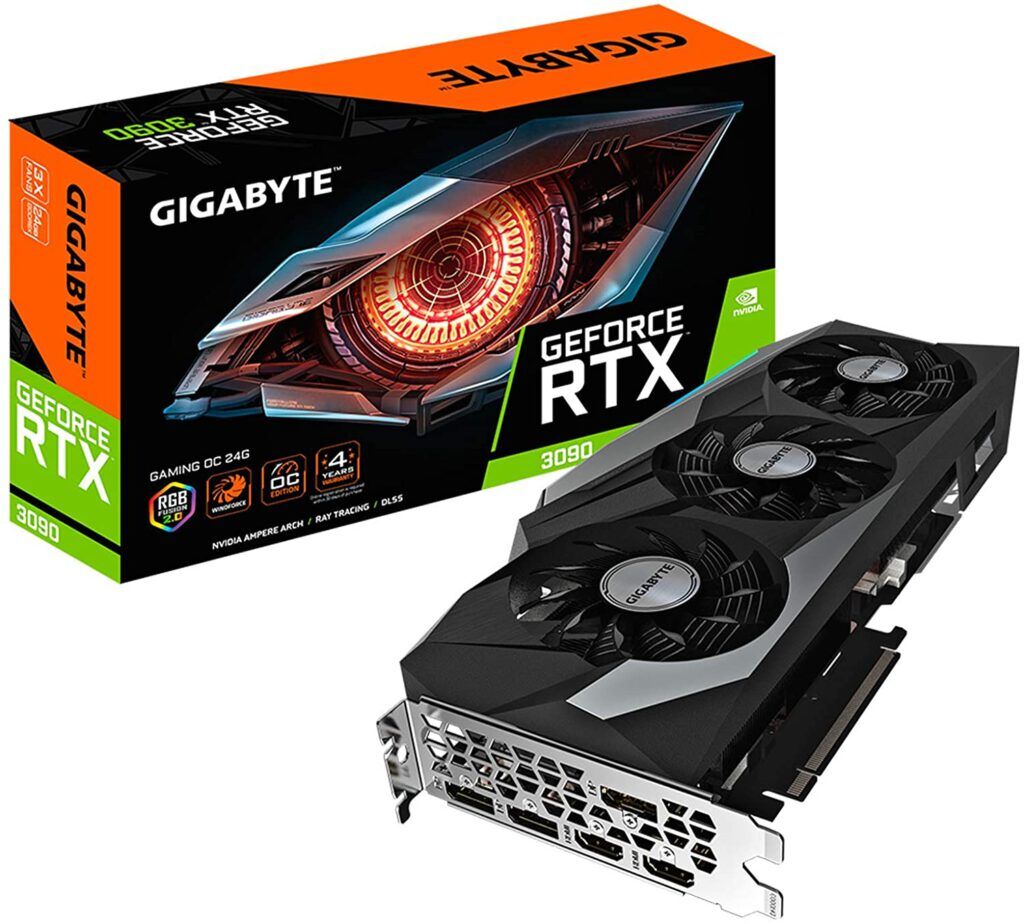 MSI NVIDIA GeForce RTX 3090
CUDA cores: 10,496
Base clock: 1,395 MHz
Boost clock: 1,695 MHz
TFLOPs: 35.68Memory: 24GB GDDR6X
Memory clock: 19.5 GT/s
Memory bandwidth: 935.8 GB/s
Price: € 2300 / $ 2725
Some gamers (or crypto miners) are looking for the fastest GPU out there without any concern for the price. Well, for these streamers, the MSI NVIDIA GeForce RTX 3090 is the perfect match!
While the RTX 3090 performs 'only' 10 to 20% better, the cost is double. This is because it contains a new GA102 chip, has a new ampere architecture, and contains 24GB of Video Memory! The 24GB VRAM is one of the main reasons why this card is the fastest card available.
Pro
24 GB of VRAM
Fastest GPU available
4K and maybe even 8K gaming
Cons
Expensive
Extremely limited availability for now
High power requirements
Other sites also recommend …
As we can't test every Graphics Card released in the market, we thought we'd include some of the Graphics Cards that some other reputable sources have mentioned. Keep in mind that most of these other sites included the same recommendations that we have given above.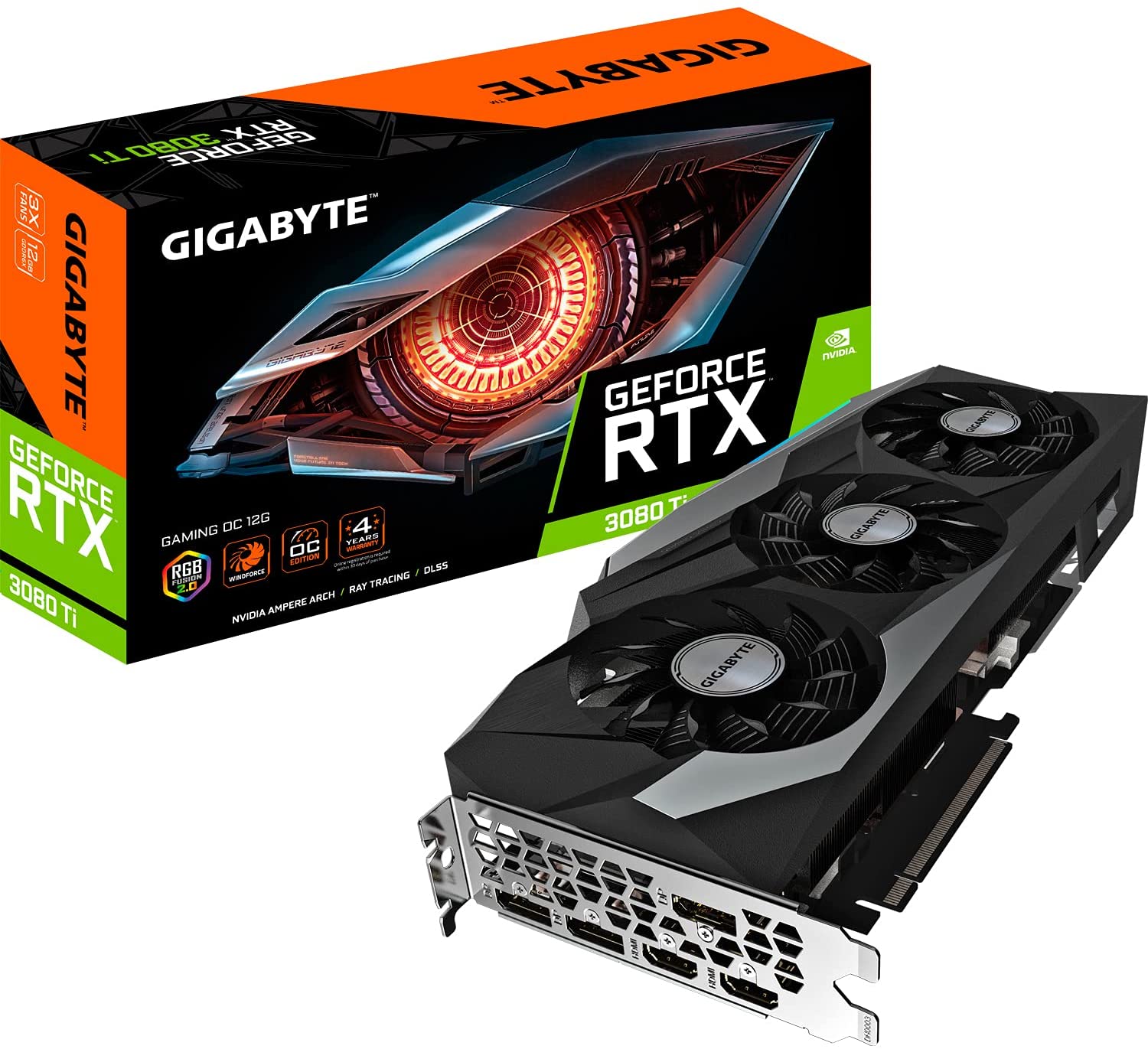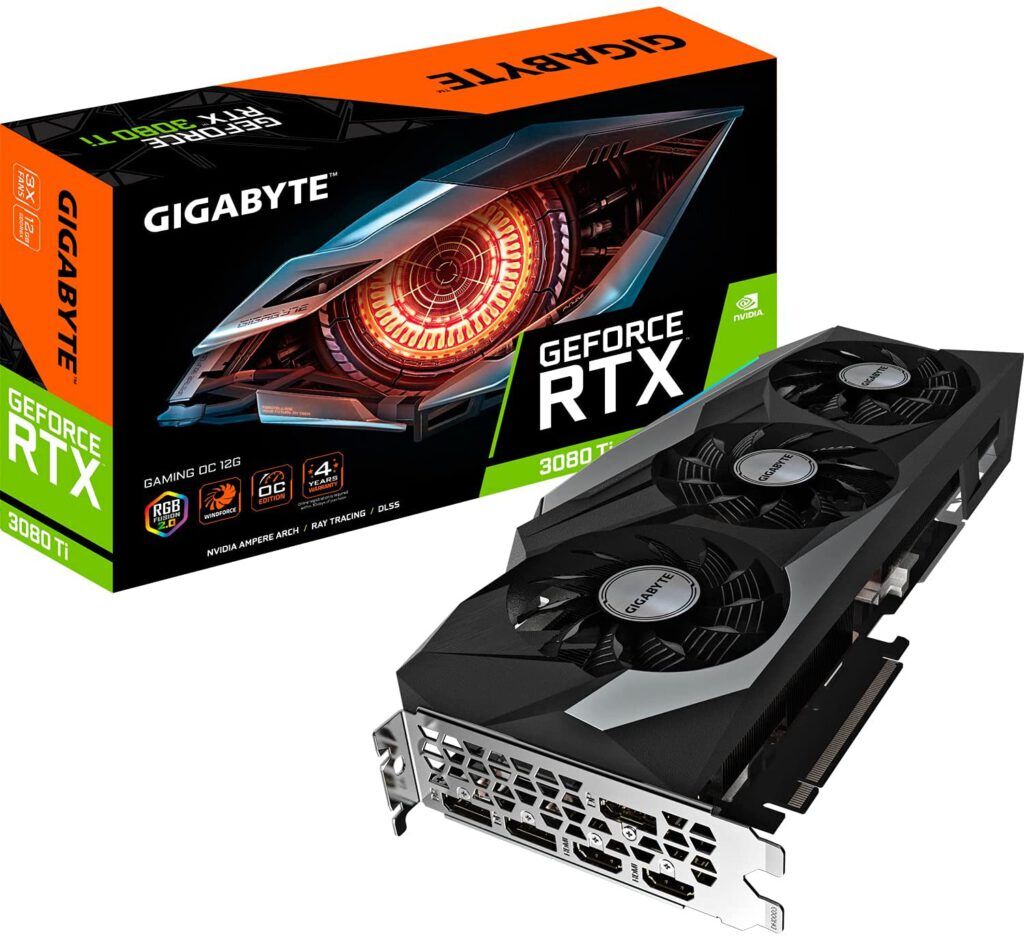 NVIDIA GeForce RTX 3080
CUDA cores: 8,704
Base clock: 1,440 MHz
Boost clock: 1,710 MHz
TFLOPs: 29.76
Memory: 10GB GDDR6X
Memory clock: 19 GT/s
Memory bandwidth: 760 GB/s
Price: € 1555 / $ 1845
---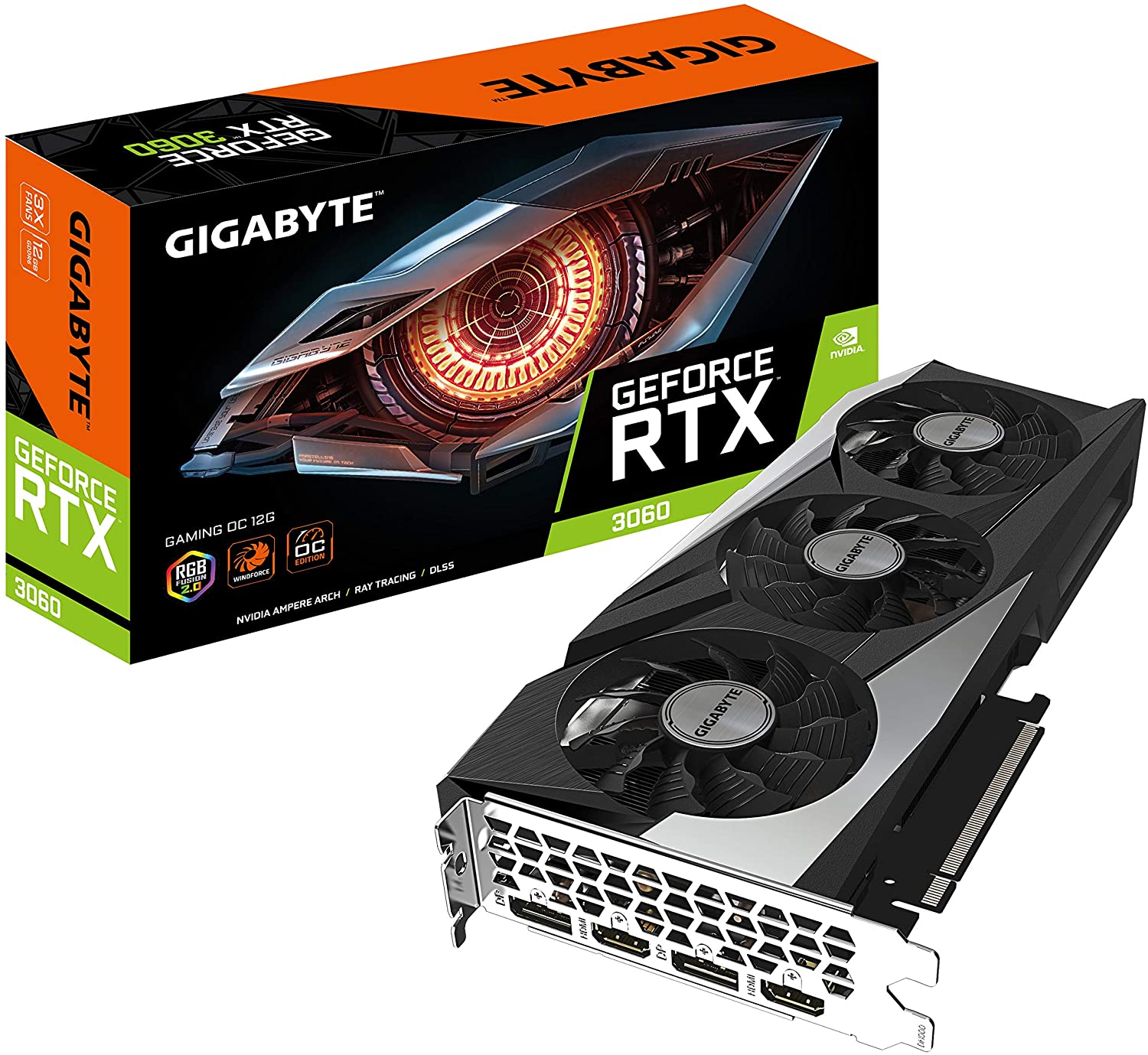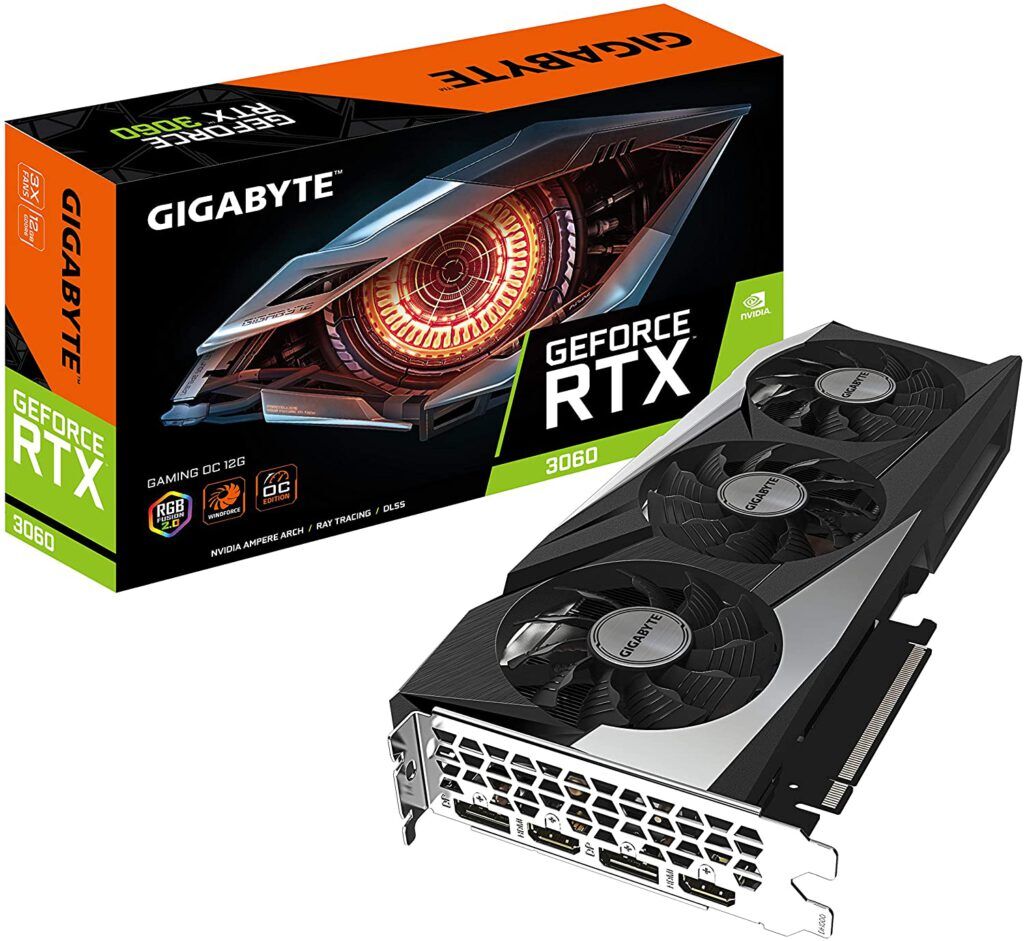 NVIDIA GeForce RTX 3060 Ti
CUDA cores: 4,864
Base clock: 1,410 MHz
Boost clock: 1,665 MHz
TFLOPs: 16.20
Memory: 8GB GDDR6
Memory clock: 14 GT/s
Memory bandwidth: 448 GB/s
Price: € 820 / $ 970
We use affiliate links to keep our website running. This does not affect our product selections or ratings.