We've analyzed hundreds of thousands of hours of Twitch streams at this point and I personally have watched thousands of hours from the perspective of a marketer. As part of what we do, I spend a lot of time looking at Twitch chat, listening to streamers speak to their audience, and understanding the why audience members click or don't click, use the code or don't use the code, and download the app or don't download the app.
Something important that I've come to realise is that niche Twitch communities are much more than just a place to watch highly talented gamers kill a lot of people and this is an important thing to understand because we have agencies and brands spending a lot of money looking at Twitch the same way they see ESPN or a football game on T.V.
We shouldn't forget about the chat function, because Twitch chat is a very lively place where – besides the game itself – the streamer and the audience discuss their life, love, daily-habits and routines, preferences, food choices, future plans, and a lot more.
Redefine "endemic" advertising categories
That being said, I'd like to put this list out there as a way to potentially re-define "endemic" advertising categories, which have been used to describe brands that are natural to the gaming world vs. those looking on from the outside.
Primary hardware (monitors, mouse, keyboard, controller, console, headset, computer case, graphics card, processor, motherboard, memory, storage, power supply)
Secondary hardware (chair, mic, camera, desk, mouse-pad, lighting, cable-management, desk-accessories)
Software (game launcher, communication platform, streaming software, graphics-cards software)
Information (guides, industry-news, forums, gaming-tech news, leader-boards, streamer metrics, event calendars)
Entertainment (shows, streaming platforms, movies, online-personalities, meme-pages)
Apparel (brands, fan merchandise, sneakers, hoodies, hats, glasses)
Food & Beverage (water, energy drink/supplement, soda, delivery company, fast-food chain)
Highlighted: Food & Beverage
We've analysed 10,000 chat comments specific to "food" and "eating", pulled from top streamers across 5 different games (Fortnite, PUBG, League of Legends, World of Warcraft, APEX Legends). Our most important lessons?
There was a massive amount of usage of the phrases "fast-food", "getting there fast", or "eating fast".
There weren't that much mentions about specific delivery companies besides Uber Eats.
All of these categories have a potential to advertise on Twitch in a non-invasive and complementary way that enhances existing conversations on the platform.
The relationship between streamers and their audience.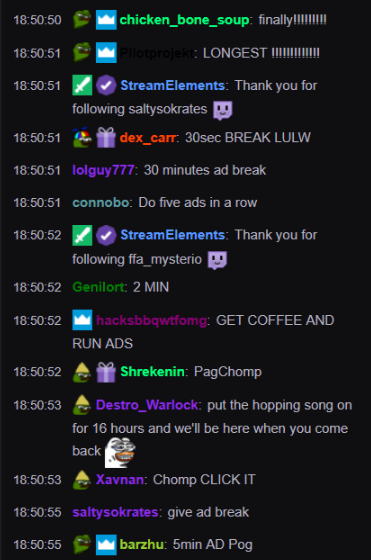 This is a screen-shot of Guzu's chat showing the support that Twitch fans have for their favourite streamers. During a time of peak viewership, his fans understood that if he showed Twitch programmatic advertising, he'd receive more money than usual and therefore – by watching the ads – the fans would be supporting him.
The audience is literally begging for the streamer to play ads.